If you need fast access to cash, you might have found a number of online loan and line of credit providers that say you can have money deposited to your account the same day you're approved. One such company is CreditFresh, which advertises that they offer "a flexible way to borrow." So, is Credit Fresh legit, or is it a scam?
The answer to this question depends on what you mean by "scam."

CreditFresh is a legitimate company that offers personal lines of credit to consumers. However, this is a particularly expensive way to borrow money. If you're not careful, you could end up spending a tremendous amount on interest.
While it might be useful in a bind when you have no other options, there are generally better, less expensive ways to borrow money. In this article, we'll take a look at everything you need to know about CreditFresh and borrowing money with less-than-ideal credit.
What Is Credit Fresh?
CreditFresh is a company that provides lines of credit through its partnership with a number of financial institutions.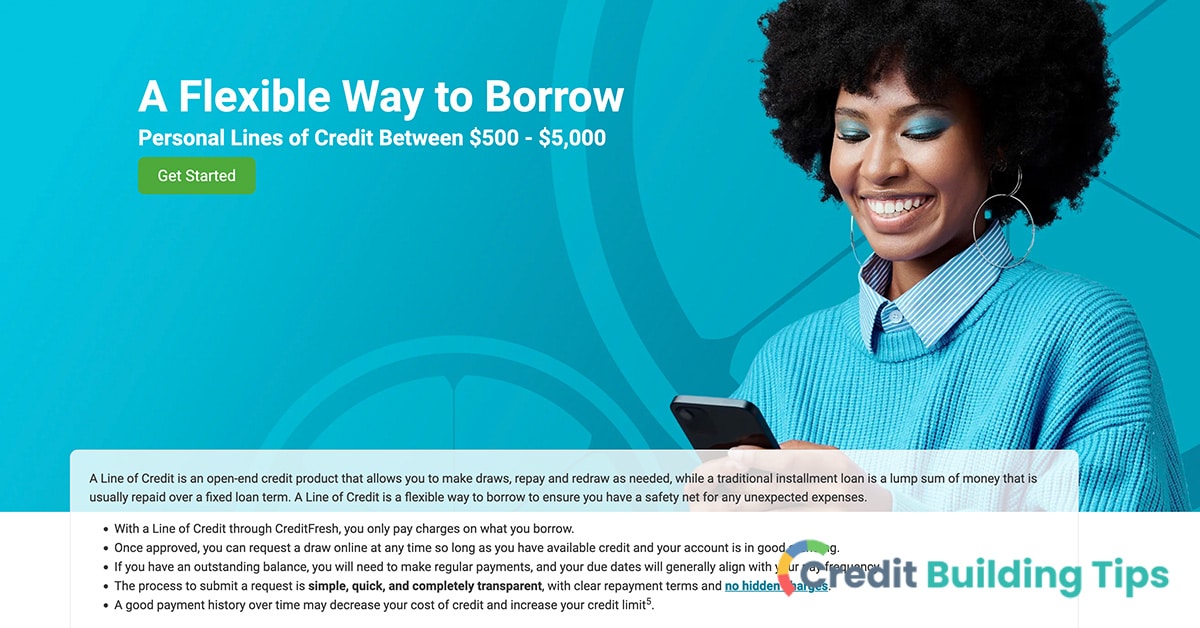 They work with a number of different Bank Lending Partners, including:
CBW Bank
First Electronic Bank
When you submit a request for credit using CreditFresh, the line of credit could originate from one of the above-listed banks or another one of their partners.
CreditFresh offers lines of credit to consumers with low credit scores that need to get their hands on some cash fast. While this might seem like a lifesaver if you're in a bind, it's important to understand the costs of borrowing money in this way.
CreditFresh markets the line of credit they offer as straightforward and transparent. It's important to understand the potential costs of borrowing money in this way versus other options.
The bottom line is that CreditFresh markets its services to people with low credit scores who need fast access to cash. They are able to take on the risk of lending to people with poor credit scores by charging extremely high interest rates.
What Is the Interest Rate For a CreditFresh Line of Credit?
Any time you're borrowing money, there are a lot of important questions to ask. One key question is: what's the true cost?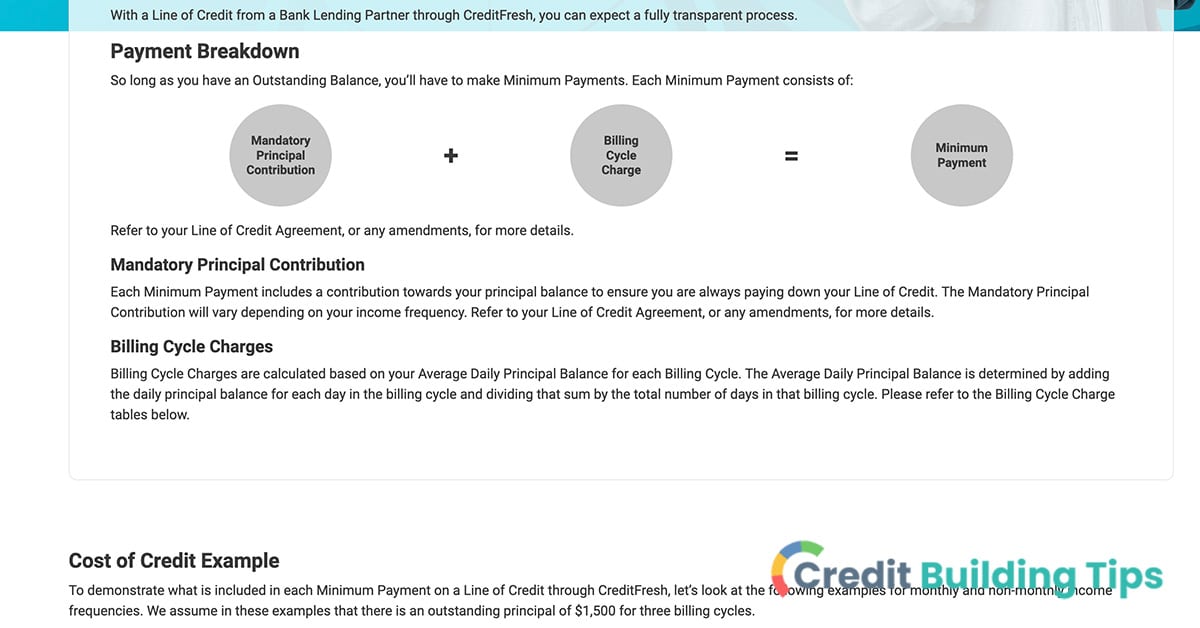 In the fine print on CreditFresh's own website, they go so far as to state that borrowing from them is an incredibly costly way to gain access to some cash:
"A Line of Credit through CreditFresh is an expensive form of credit and should not be used as a long-term financial solution."
Though it's difficult to find information on CreditFresh's site about their interest rates, other sources state that the APR for a line of credit starts at 65%.
For the purposes of comparison, the average credit card interest rate as of September 2023 is 24.45%, which is historically quite high, according to Lending Tree.
Already, this should send up some red flags. 65% is an incredibly high interest rate, and that's just where rates start. According to one source, the interest rates are typically under 200% for a line of credit from CreditFresh, which is a recipe for spending an outrageous amount of money during the repayment of the loan.
Is CreditFresh Legit?
Is CreditFresh just a scam? Or is it a legitimate company?
CreditFresh is, in fact, a legitimate company that offers lines of credit to consumers through its partnership with various financial institutions.
Don't stop reading just yet, though. Just because CreditFresh isn't a complete scam doesn't mean taking out a line of credit from them is a good idea.
By targeting consumers with low credit scores who need access to cash fast, CreditFresh is taking on a lot of risk. The way that they justify this amount of risk is by charging incredibly high-interest rates for these credit lines.
A little later in the article, we'll talk about the pros and cons of taking out this type of line of credit as well as some alternative options on the table.
First, we'll take a closer look at a recent class action lawsuit that was proposed against CreditFresh regarding concerns surrounding a data breach that occurred in the spring of 2022. Even if the company is technically "legit," the type of activity outlined in the complaint might leave you to think twice about taking out a line of credit from this company.
The Proposed Lawsuit Against CreditFresh
Another important piece of information you'll want to consider when you're thinking about working with CreditFresh is that a class action lawsuit was proposed against them not long ago due to a data breach.
The proposed class action lawsuit claims that the company didn't protect the personal information of consumers adequately from access by unauthorized parties. The defendant in the proposed suit is Propel Holdings, Inc., which uses the CreditFresh name to offer lines of credit through First Electronic Bank, CBW Bank, and other partners.
The data breach is said to have occurred in February or March 2022. Allegedly, the following information was exposed to both customers and prospective customers:
Names
Addresses
Dates of birth
Bank account information
Phone numbers
Email addresses
Social security numbers
The lawsuit claims that CreditFresh could have taken reasonable steps to prevent the breach. Consumers who had their information exposed now "face years of constant surveillance of their financial and personal records, monitoring, and loss of rights," according to the complaint.
Alternative Borrowing Options
If you need quick access to cash, it's easy to start making compromises. You might tell yourself that borrowing money at an exorbitant interest rate isn't a big deal because you'll pay it back quickly, or maybe you don't even think about the interest rate because you're in such a desperate financial situation.
The truth is, though, it's ultimately best to steer clear of this type of borrowing option. There are other more affordable alternatives that could help you get the money you need now without threatening your future financial stability. This is true even if you have bad credit-- you just might need to shop around or get creative.
Online Loans
There are lots of online loan providers these days, some of whom will consider borrowers with poor credit scores. You might be able to increase the likelihood that you'll be approved by offering additional information, such as any outstanding debts you have and your employment status.
Though this type of loan tends to have higher rates, they usually aren't higher than 36%. Compared to the cost of a CreditFresh line of credit, this is still an improvement.
Joint or Co-Signed Loans
Another way to gain access to money with a bad credit score is to consider adding a co-applicant who has a stronger credit history.
A co-signer is an individual who won't receive access to the funds of the loan but who essentially vouches for you and helps boost your own credit profile, while also signing on to cover the cost of the loan if you default.
A co-borrower, on the other hand, has access to the funds from the loan and is equally responsible for repaying the loan.
Secured Loans
A secured loan is a way to borrow money for a lower interest rate by putting up an asset as collateral. These types of loans often have less strict credit requirements, but you run the risk of losing the asset if you miss too many payments.
A vehicle can often be used as collateral through online lenders. However, if you apply for a secured loan through a credit union or bank, the collateral usually needs to be an investment or savings account.
Loans From Friends or Family
Though it can be frustrating and embarrassing to ask your loved ones for a loan, it's possible that this will ultimately be the more financially wise choice if your only other option is a high APR line of credit.
It's important to understand how money can quickly complicate relationships with people, no matter how close you are. For this reason, it's important to hammer out the details of the loan on paper in the form of a contract. Make sure you record how much money you're borrowing, any terms of repayment, and the process through which you'll pay them back.
Credit Union Loans
Lots of credit unions will offer personal loans in small amounts. These loans typically start around $500. When you're working with a local credit union, there's often more leeway in terms of qualification than when you're trying to get a loan from a large, national financial institution.
For example, they might take other information into consideration beyond your credit score, such as your history with the credit union as a member. Personal loan rates are also capped at 18% under federal credit union cap rates.
Payment Plans
Are you trying to get access to a line of credit quickly because your bills are getting to be too much to handle? It's possible that setting up payment plans instead of borrowing money could offer the relief you need.

A number of utility companies and creditors will give you the option to fill out hardship forms in order to request an extension. At the end of the day, these entities just want to collect the money they're owed, and they are often more willing to work with you than you might initially expect.
Nonprofit Emergency Loan Providers
Another option is applying for a loan with a nonprofit lender. There are some organizations, such as the Capital Good Fund, that accept borrowers who have no credit history or thin credit profiles. This particular nonprofit offers emergency loans up to $1,500 and doesn't have a minimum credit score requirement.
The rates for this type of loan can be much more favorable than with for-profit lenders like CreditFresh. For example, the Capital Good Fund offers rates between 5% and 16%.
Payday Alternative Loans
Payday alternative loans are small loans that some federal credit unions offer. With longer repayment periods and much more reasonable rates than typical payday loans, this type of loan is much less likely to trap you in a cycle of debt.
The National Credit Union Administration created this type of loan program back in 2010. You don't necessarily have to have good credit in order to get a payday alternative loan-- the more important factors include your ability to repay the loan and your income.
Cash Advance Apps
If you just need a little extra money to cover your costs until your next paycheck, another option is a cash advance app.
There are a number of popular apps of this type, including:
Earnin
Brigit
Dave
Empower
Klover
SoLo Funds
MoneyLion
These apps can be really useful when you're in a pinch, but the truth is they are also a very expensive way to borrow money. Though the associated fees-- whether fast-funding fees or subscription fees-- are very high when weighed against the amount of money you can receive in this manner.
For this reason, cash advance apps are best used in true emergency situations.
At the end of the day, it costs money to borrow money. If you keep finding yourself in a situation where you don't have enough cash to pay for the things you need, you might consider figuring out a way to earn some extra income.
There are lots of ways you can get your hands on cash quickly if you're willing to be a little creative. You probably have some stuff you don't use anymore that could be sold on Craigslist, Facebook Marketplace, or eBay, or maybe you could start a side gig as a rideshare driver. Whether you start hanging signs in your neighborhood offering lawn mowing services or pick up some extra cash babysitting for the neighbor, you don't have to be limited to the income you earn from your day job.
CreditFresh FAQs
Before I sign off, let's take a look at some commonly asked questions about CreditFresh and other ways to borrow money fast when you don't have great credit.
How Does CreditFresh Operate?
CreditFresh has been a company since 2019 and provides lines of credit to consumers in roughly half of the states in the U.S. This is a company that specializes in providing fast funding to people with low credit scores. While this might seem like a great deal when you're in a bind, the business model ultimately relies on charging extremely high interest rates in order to justify the risk of lending to consumers who aren't considered particularly creditworthy.
How Much Can I Borrow Through CreditFresh?
If you apply for a line of credit through CreditFresh and you're approved, your credit limit will range somewhere between $500 and $5000.
There are a number of different factors that are considered to determine your credit limit. You can potentially become eligible for increased credit limits or reduced billing cycle charges based on your payment history.
How Fast Will I Get My Money From CreditFresh?
One of the main selling points of a line of credit through CreditFresh is how quickly the funds can become available to you.
You will typically receive the funds the same day if you are approved and request a draw before 3:30 pm Eastern time during the business week.
If you're approved and request a draw at another time, the funds will show up the next business day.
It's important to remember that your own bank and bank's policies can impact when funds are made available to you.
How Much Does It Cost to Take Out a Line of Credit?
CreditFresh markets itself as a company that provides clear and transparent disclosures about the cost of borrowing. At the same time, they don't make it clear what interest rates they charge-- other sources state that the APR starts at 65% (which is incredibly high.)
As soon as you receive your funds, you'll start to incur charges. The amount of money you borrow is the metric used to determine your billing cycle charge, not your credit limit.
If you have an outstanding principal balance with CreditFresh, you'll have to pay both the billing cycle charges and a mandatory principal contribution as a part of your minimum payment.
What Is the Difference Between a Line of Credit and an Installment Loan?
When you take out an installment loan or another type of personal loan, you receive a lump sum of money. You then begin repaying the loan over a period of time with additional interest and, potentially, fees. These payments are made in a scheduled manner, typically monthly.
Taking out a line of credit, on the other hand, offers you a credit limit which you can borrow against. This is a revolving line of credit rather than a lump sum loan, meaning that borrowers can draw on their credit line, repay what they owe, and continue to redraw, assuming they have credit available.
Who Qualifies For a Line of Credit Through FreshCredit?
There are a few requirements you'll have to meet in order to request a line of credit through CreditFresh.
In order to apply, you must:
Be a US citizen or a permanent resident
Be of legal age in the state you live in
Have a consistent, regular source of income
Have an active bank account
Have an active email address and a valid contact number
As you can see, the bar is pretty low in terms of being able to request a line of credit. There is no minimum credit score disclosed by CreditFresh, but given the nature of the financial product, it is clear they are marketing to people with poor credit scores.
Is a CreditFresh Line of Credit Available in All 50 States?
No, you can get a CreditFresh line of credit if you live in certain U.S. states.
These are:
Alabama
Alaska
Arizona
Arkansas
Delaware
Florida
Hawaii
Idaho
Indiana
Kansas
Kentucky
Louisiana
Michigan
Mississippi
Missouri
Nebraska
Ohio
Oklahoma
South Carolina
Tennessee
Texas
Utah
Washington
Wisconsin
Does a CreditFresh Line of Credit Impact My Credit Score?
When you have a CreditFresh line of credit, your account status will be reported to TransUnion. TransUnion is one of the three major credit reporting bureaus in the United States. The information that is reported by CreditFresh to TransUnion can be incorporated into your credit score calculation and impact your credit score.
Repairing Your Credit to Expand Your Borrowing Options
While CreditFresh is a legitimate company, that doesn't necessarily mean opening a line of credit with them is going to be the best financial decision. Offering lines of credit to people with bad credit and charging exorbitant interest in order to deal with the risk, borrowing money from a company like this is quite expensive compared to other potential options on the table.
One of the best things you can do for your own financial well-being is work to improve your credit over time.
While there are a few things you can do to quickly boost your credit score, the truth is that it can take a while to improve an imperfect credit file. If you think you might need to take out a loan or get a new credit card down the road, it's a good idea to start thinking about cleaning up your credit report sooner rather than later.
Are you looking for resources to help you out as you work to improve your credit score? Make sure you check out our Credit Building Tips blog for more articles and guides.