Now that the COVID-19 pandemic seems to be in the rearview mirror as far as the government is concerned, they have stopped letting us check our credit reports every week and reverted to one free credit report check each year.
These reports list your bill payment history, loans, current debt load, and other financial information. They include information on your work and whether you've ever been sued or filed for bankruptcy. Or whether you've been arrested and have a criminal record.
Lenders, insurers, employers, and rental property owners can all check your credit score before they lend you money, hire you or allow you to become their tenant. Lenders use the information to determine whether you're a good risk to lend money, and your lending history will help them decide what interest rate to charge you.
They'll go to a credit reporting agency and check the information this agency has on you. The credit report agency manages its records and may or may not have every bit of information about all your accounts. The information they do have has to be accurate but not comprehensive.

The trouble is there are
three main credit reporting agencies — Experian, Equifax, and TransUnion.
There are several other credit reporting agencies that aren't as mainstream, and you don't often know which agency will be used to report on you. It could just be one, or they could go the distance and check all three main credit bureaus.
The way to ensure any future lender, insurance agency, employer, or landlord has the most accurate, comprehensive, and up-to-date information on your account is to regularly check your credit report and look for any errors. If there are errors in your credit history, like a lender claiming you haven't paid a loan when you have, you need to address these errors as soon as possible.
That's why the federal government lets you check your credit report for free once a year. That is, one free report from every credit reporting agency. They encourage people to check their reports for the reasons listed above and to help you catch signs of identity theft.
Three Simple Steps to Request Your Free Credit Reports
Central Source, LLC is the authorized government body that accepts your request for your annual credit report in three easy steps.
The first step asks for your legal name, current address, previous address if you've lived at your current address for less than two years, and your Social Security Number.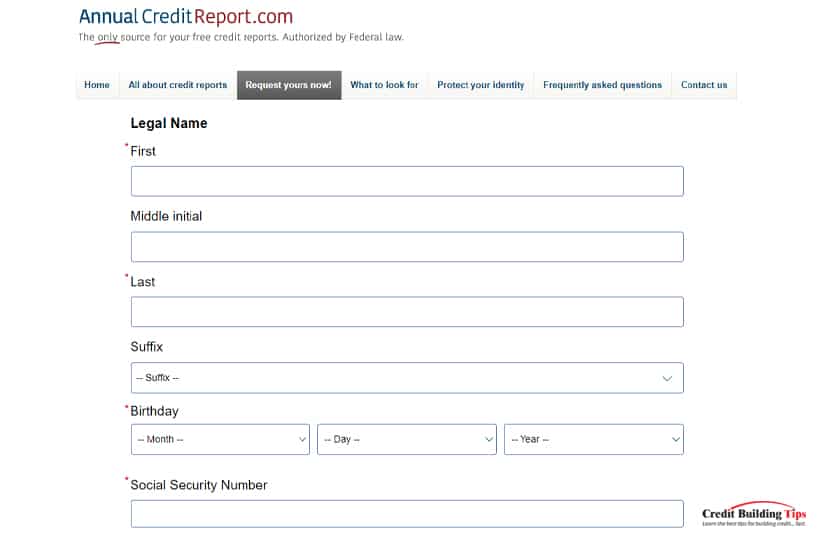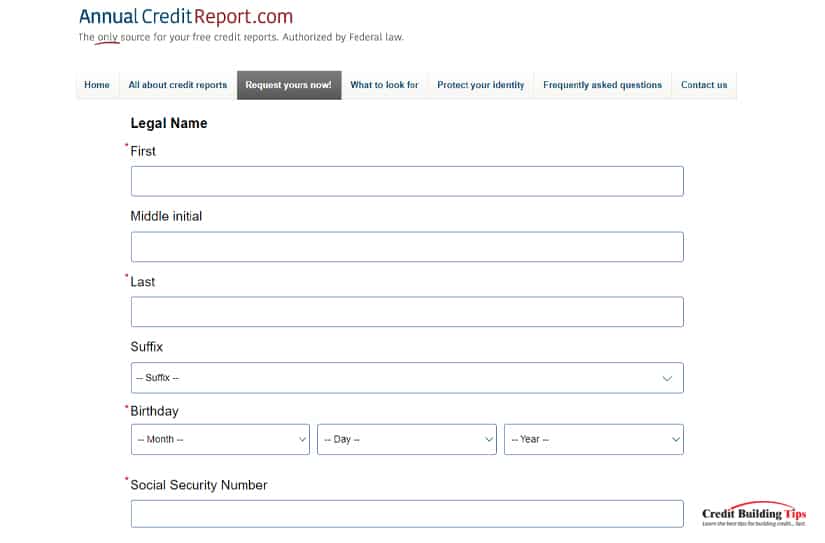 Next, you'll be able to choose which credit bureaus' report you want: Equifax, Experian, TransUnion, or all three. And finally, you'll need to answer a set of security questions to verify your identity.
The security questions you'll be asked to answer may require your tax information or other information that you'll have in your files, but no one else will know or be able to guess.

Wait a minute. Did you notice that this request will give you an annual free credit
report
? It doesn't mention getting your
credit score
along with the report. To put it bluntly,
you won't get your credit score.
You may be deep in the land of Google, skimming how to get your credit score for free, and read several sources that indicate that your free annual credit report from Annual Credit Report also gives you your credit score. It doesn't.
Why You Should Get Your Annual (and Free) Credit Report
If you're not going to get your credit score which may be what you're vitally interested in determining, why should you ask for your annual credit report?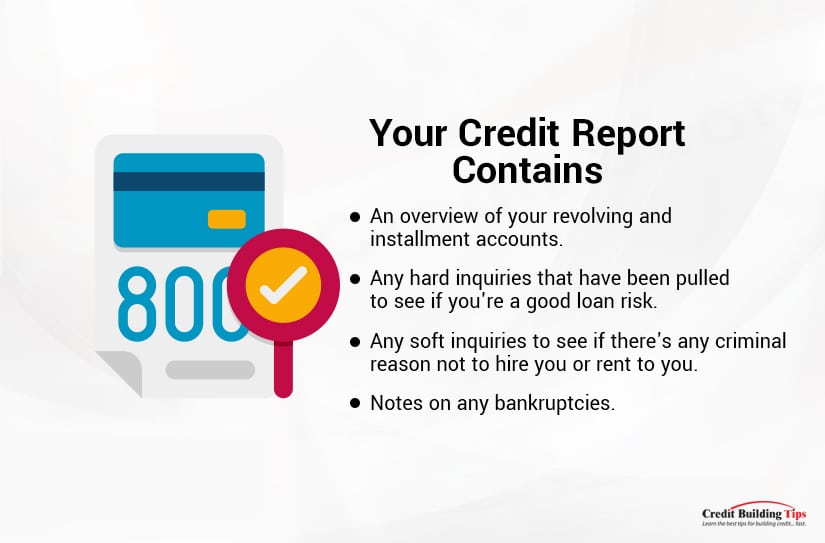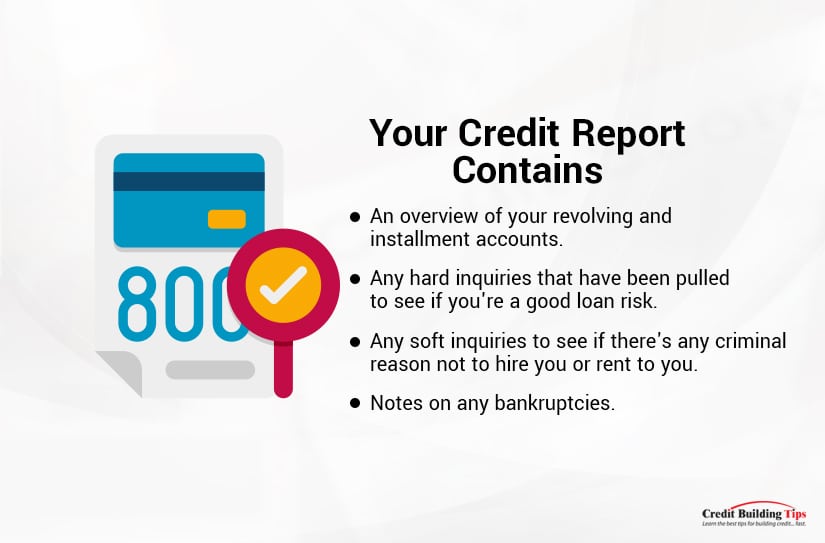 You'll be able to see:
An overview of your revolving and installment accounts.
Any hard inquiries that have been pulled to see if you're a good loan risk.
Any soft inquiries to see if there's any criminal reason not to hire you or rent to you.
Notes on any bankruptcies.
Your credit report contains a breakdown of your financial history within the last seven to ten years.
Have You Met FICO?
Most of us have probably heard about FICO. We may not know exactly who he is and what he's about, but bring up the topic of credit reports and scores, and fairly soon, his name gets thrown around.

The Fair Isaac Corporation (
FICO
®) developed a credit scoring system in 1956 and named it after themselves. Initially, the system failed, and credit bureaus didn't take another look at it until 1989 when they created the FICO score using a "closely guarded mathematical formula that considers a variety of information contained in consumers' credit bureau reports.
FICO determined that five types of behavior would be considered when coming up with a credit score: payment history, the current level of debt, types of credit used, length of credit history, and new credit accounts.
In 2022, FICO isn't the only credit scoring system used, but it certainly is the biggest. Whether it's the best may be up for debate. Gartner Peer Insights ranked eight FICO alternatives and awarded them between 4.2 and 4.8 stars.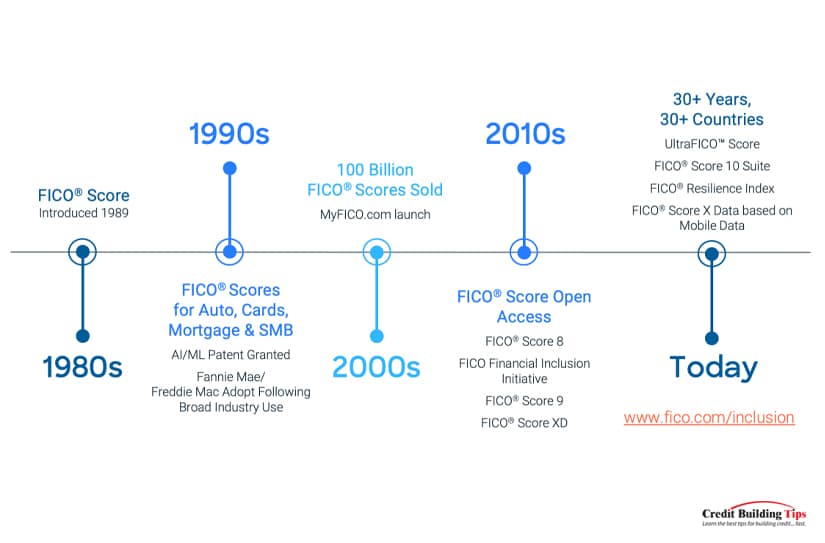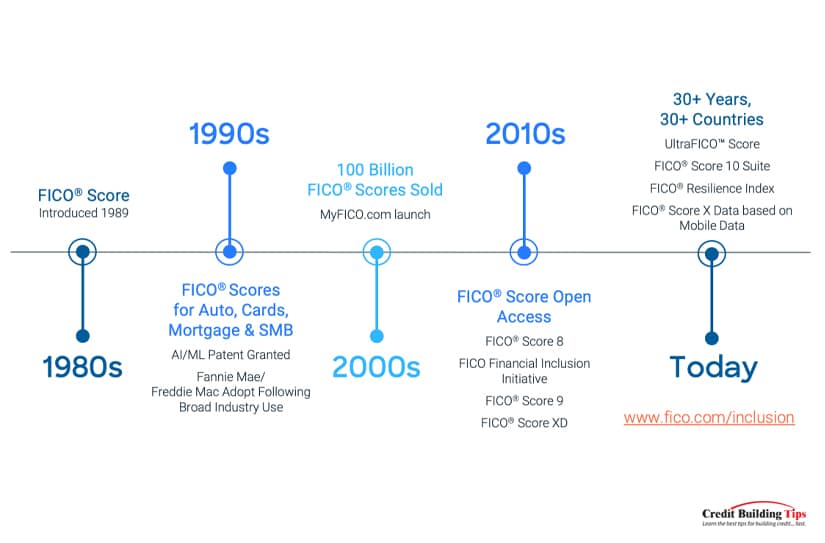 Not on Gartner Peer Insight's list is VantageScore. The three major credit bureaus created this credit scoring model. These companies wanted to create a credit scoring model that competed with FICO while expanding their credit scoring reach.
They stated that their goal was to give more consumers, like college students and new immigrants, the ability to have a credit score. Not everyone is eligible to get a credit score.
You can only get a FICO score if you have at least one account open with at least six months of credit history. Not only open, but you'll need to have at least one account that has generated a report within the last six months.
VantageScore can generate a score with only one month of credit history, and they only need one account's report within the past two years. This makes it much easier for those who don't often use credit or have just started using credit.
How to Get All Three Scores For Free
So, if the Annual Credit Report doesn't give you your credit score for free, who does?
Many services and websites advertise a "free credit score." Some of these are legitimate, but many are not quite as free as they may seem at first glance.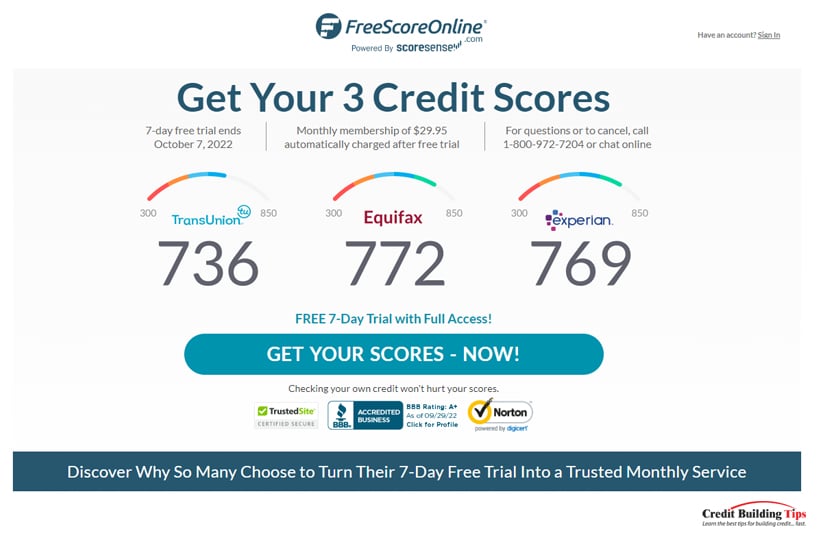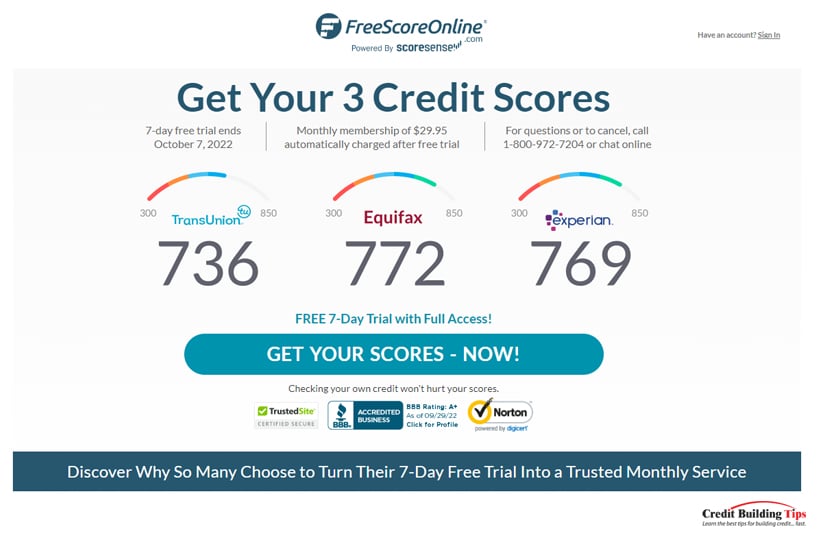 Free Score Online offers a 7-day free trial with credit scores and reports from the three main credit bureaus. To get your free 7-day trial, you will need to give your credit card number and information. That way, once the seven days have passed, your card will automatically be charged the $29.95/month membership fee.
Membership with Free Score Online gives you monthly updates on your credit scores and reports from the three main credit bureaus. You'll get daily credit monitoring and alerts and $1 million in identity theft insurance. Their Credit Insights pinpoint what's most affecting your scores, and their credit specialists are available to help you make sense of your credit.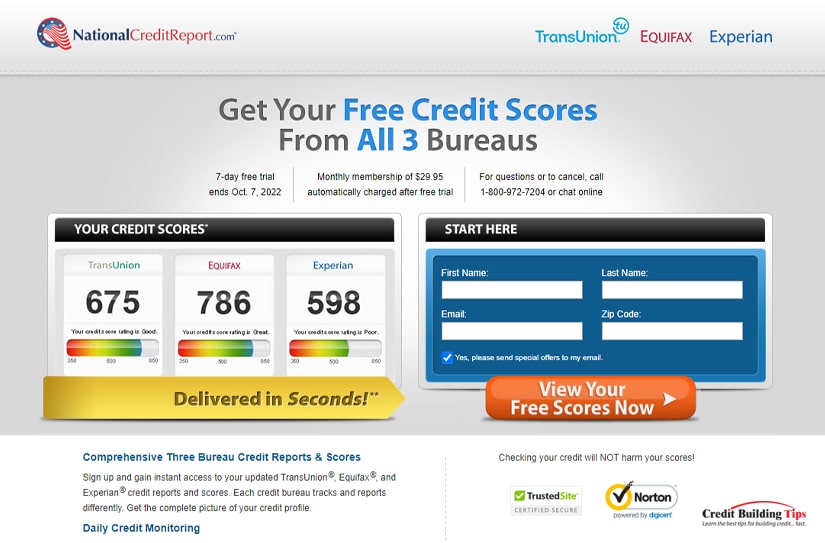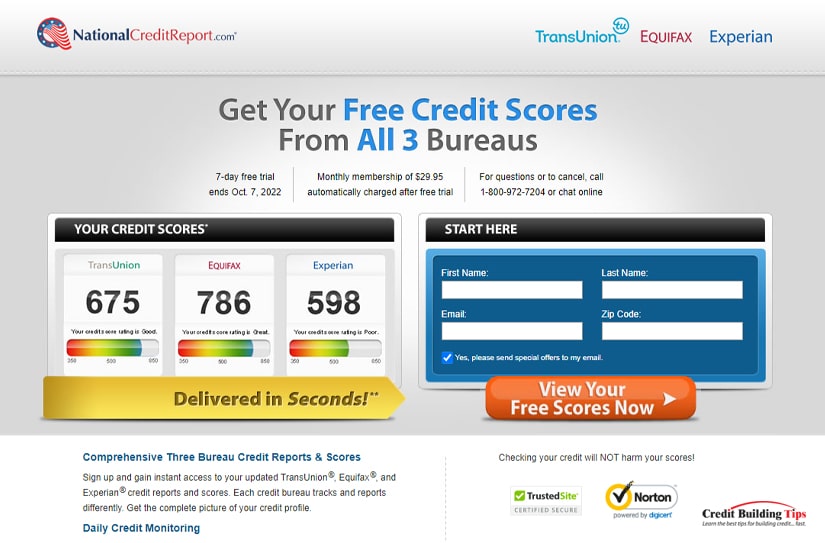 National Credit Report invites you to "view your free scores now" by signing up for a free 7-day trial. Like Free Score Online, they'll require your credit card information and automatically begin billing your card $29.95 each month after the initial free trial period is over.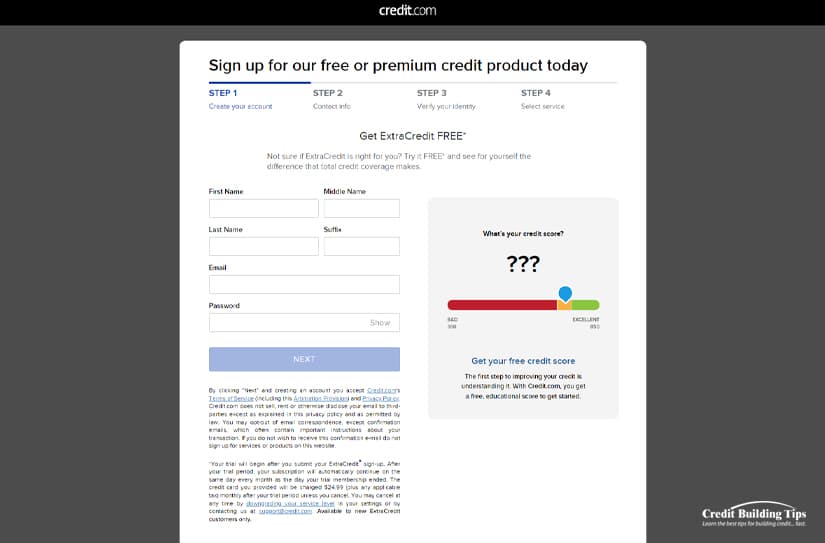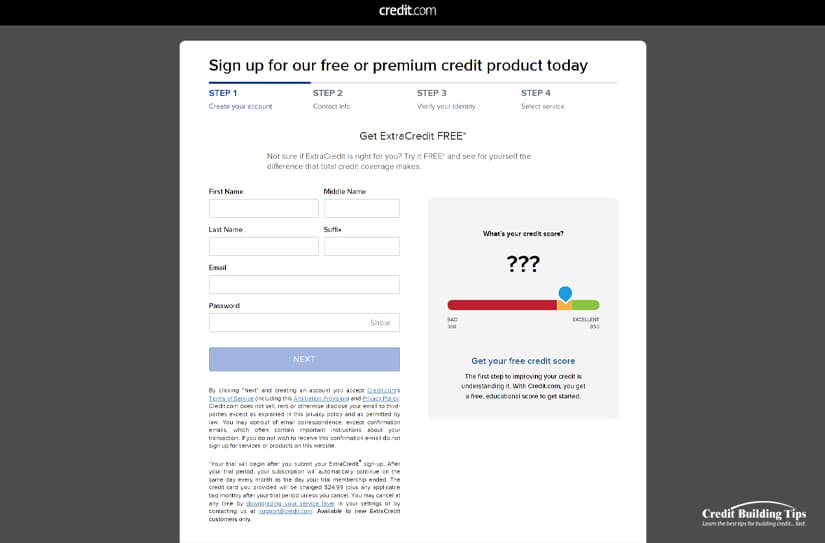 Credit.com promises to give you both your credit score and a credit report card (a summary of your full credit report) completely free of charge. They stress there's no catch and will let you have your credit score without a credit card or a hard inquiry.
If you're looking for a truly free experience, don't accidentally sign up for ExtraCredit. After a free trial period, your credit card will automatically be charged $24.99 (plus any applicable tax) monthly unless you cancel.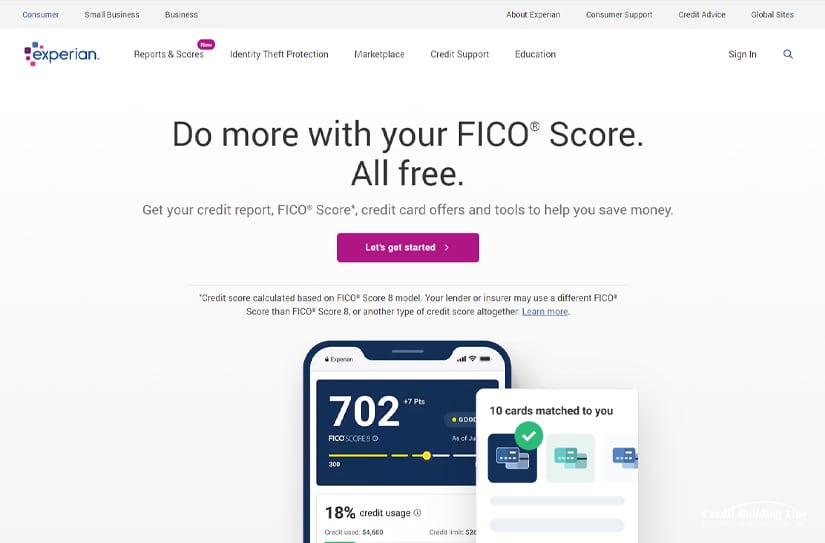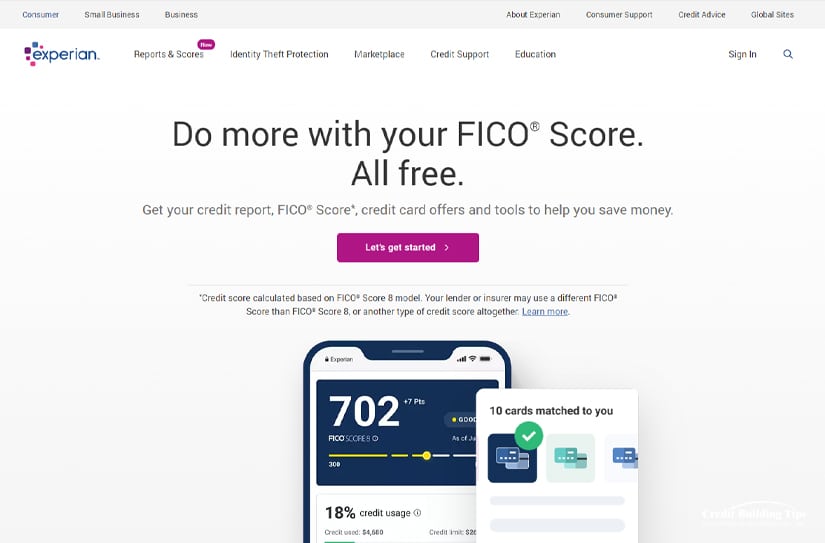 Experian goes one better. They let you view your Experian credit score for free. No credit card is required. Simply visit their website, select "Reports and Scores" from the header menu, then select "Free Credit Score." Input your information as directed and select "Create Your Account." Simple as that. You'll immediately see your Experian credit score.
You can also view your credit score from the two other credit bureaus, just not for free. To view these additional two credit bureaus will cost you a one-time fee of $39.99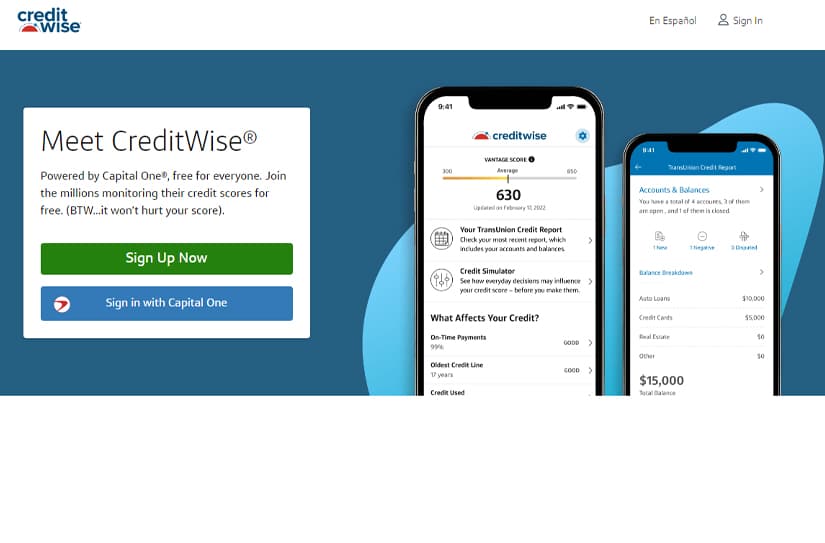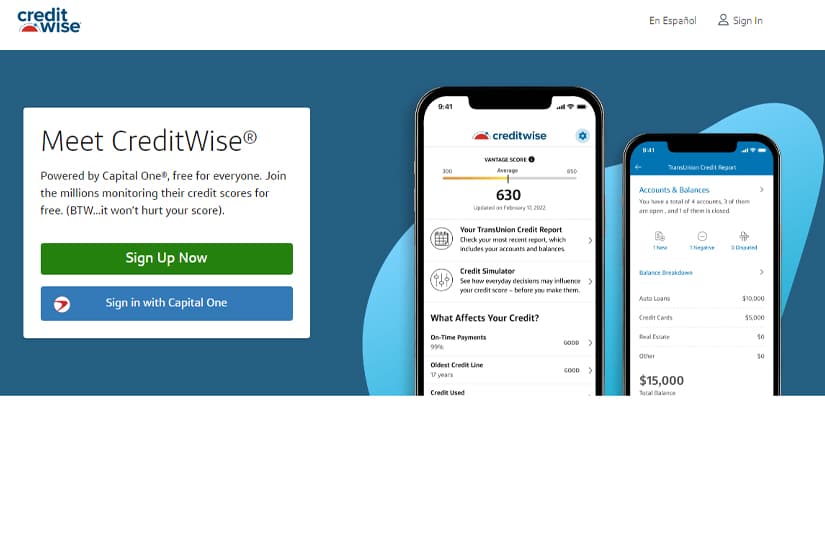 Creditwise is powered by Capital One and is "free for everyone." It checks your score on TransUnion and Equifax and offers a dark web scan.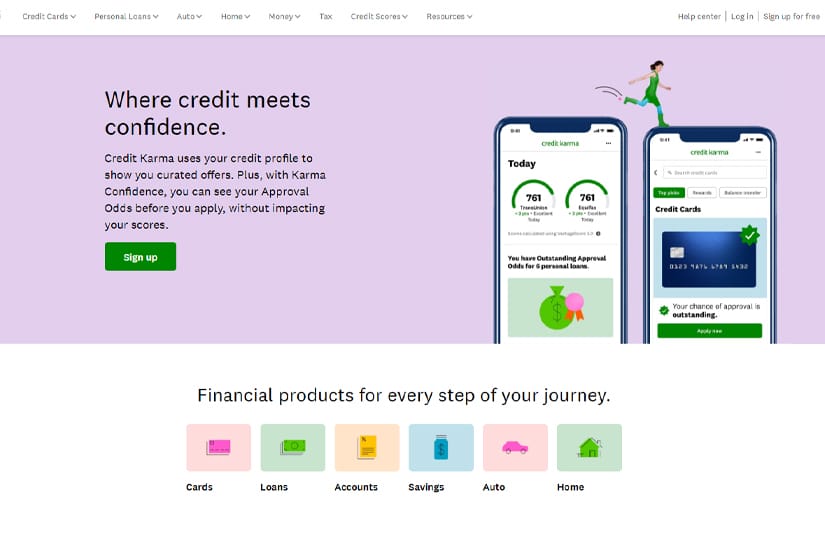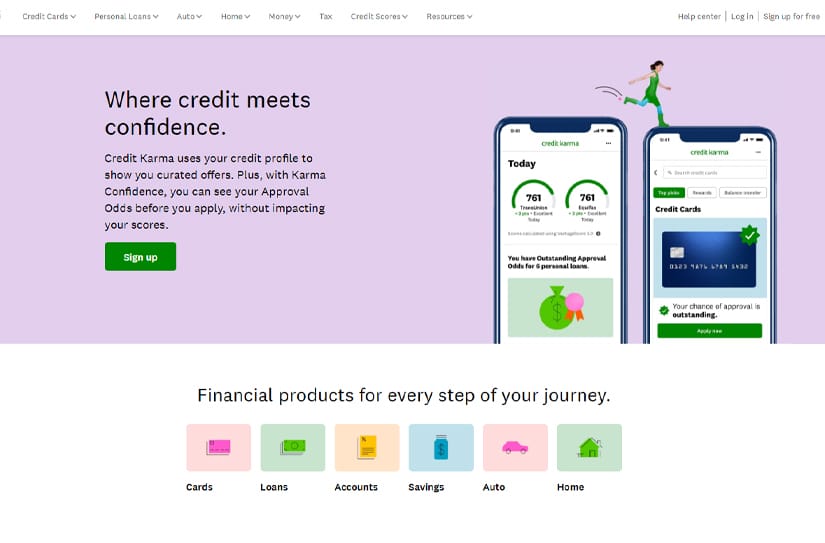 Credit Karma uses VantageScore 3.0 to calculate your credit scores from TransUnion and Equifax for free. Year-round. There's no limit on how many times you can check your score, and it's considered a soft inquiry that won't negatively impact your credit scores.
Major credit card companies have begun to provide credit scores for their customers every month. However, not every credit card company does, so check if yours offers the info. The score is usually listed on your monthly statement or can be found by logging in to your online account.
Auto loan companies are also getting on board with sharing your credit score. They'll see your credit score when they need to pull a hard inquiry on your credit report to assess whether you are a good risk. It's not really in their interest to withhold this from you, but it's also not in their interest to pull your score if you're not actually buying a vehicle from them.
Non-profit credit counselors are willing and available to talk to you (for free) if you are having trouble with your credit. HUD-approved housing counselors can often give you a free credit report and score and help you review them.
So, Where's the "Free"?

There is a way to work around companies that offer a free trial and then go on to start charging your credit card for their services. It takes some extra work and a good memory, but it can be done.
First and most importantly, read the fine print before you take someone up on their free offer to see what might be hidden in the small print.
Next, sign up for a free Experian account. After signing in, you'll have to log out of your account for this next step to work.
At some point in the near future (potentially on your next sign-in), you'll see an upsell offer to try their paid offering for free for 7 days. After the 7 day free trial, you'll be charged $24.99 per month.
For this to be free, you will need to sign up for the free trial, check your scores, and then cancel the account before the automatic payments begin. Put the end date in your calendar, set an alert on your phone, place a sticky note on your bathroom mirror or do whatever it takes to remind yourself to cancel the account.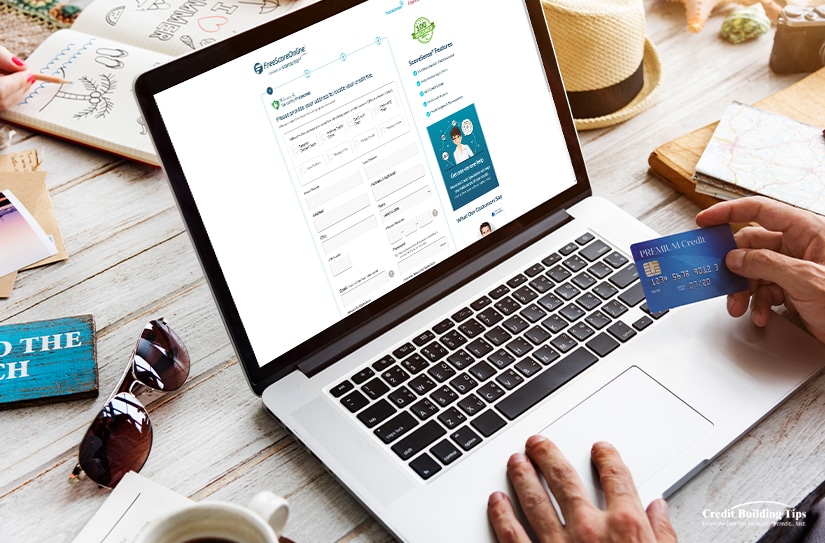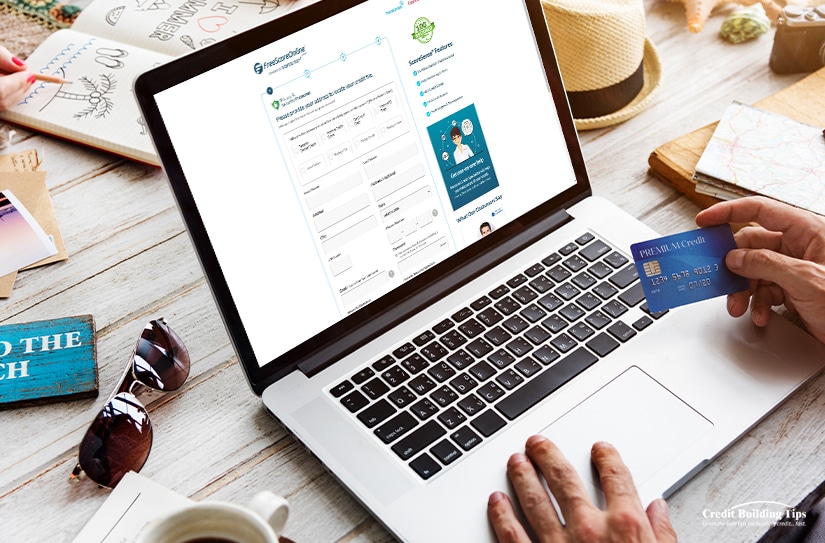 After you've retrieved your credit scores on all three bureaus, log in to your account and find "Your Account" on the home page. Look for "Membership Details" or some language like this, and you will find a place to "Cancel Your Membership."
The trick is that you can do this over and over again. You've probably heard of people signing up for a free, limited-time streaming service on Amazon or another platform. Cancel once the free period is over, wait a while, and sign up for another free trial.
Same idea, different product. No entertainment, but a great step towards financial health.
Credit Score FAQs
Q: Is it ever worth paying a fee to check my credit score?
The Consumer Financial Protection Bureau recommends you check your credit report and score at least once a year and more often before you make a major purchase that involves getting a loan, applying for a new job, or if you think you may be the victim of identity theft.
Q: Do I have more than one credit score?
You do have more than one credit score. Credit scores are calculated based on the information in your credit reports. If the information about you in the credit reports of the three large consumer reporting companies is different, your credit score from each company will be different. Lenders also use slightly different credit scores for different types of loans.
Q: What's an educational credit score?
Some credit score sources provide an "educational" credit score instead of a score that a lender would use. The Consumer Financial Protection Bureau (CFPB) published a report on the differences between educational scores and lenders' use.
The differences have to do with how the scores are generated, and the report looked at whether those differences disadvantaged the consumer. The report found that only for a "substantial minority" did the different scoring models give "meaningfully different results. Ones that would impact a lender's decision.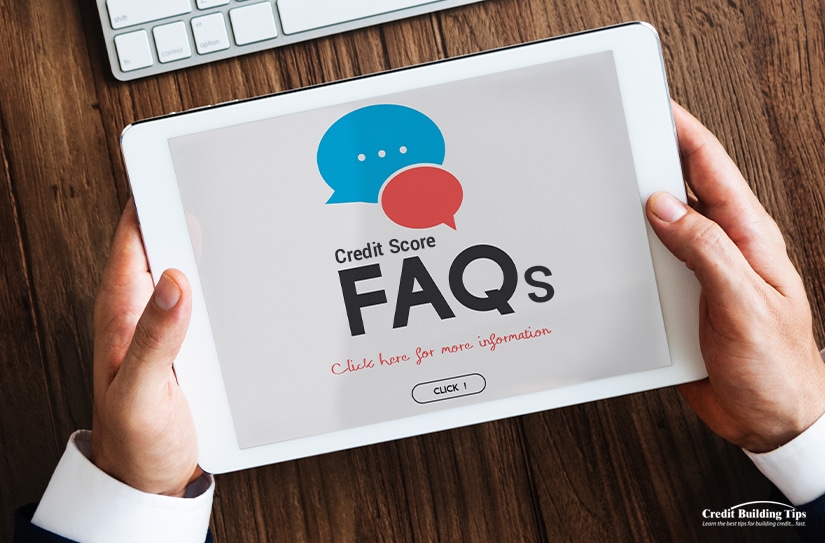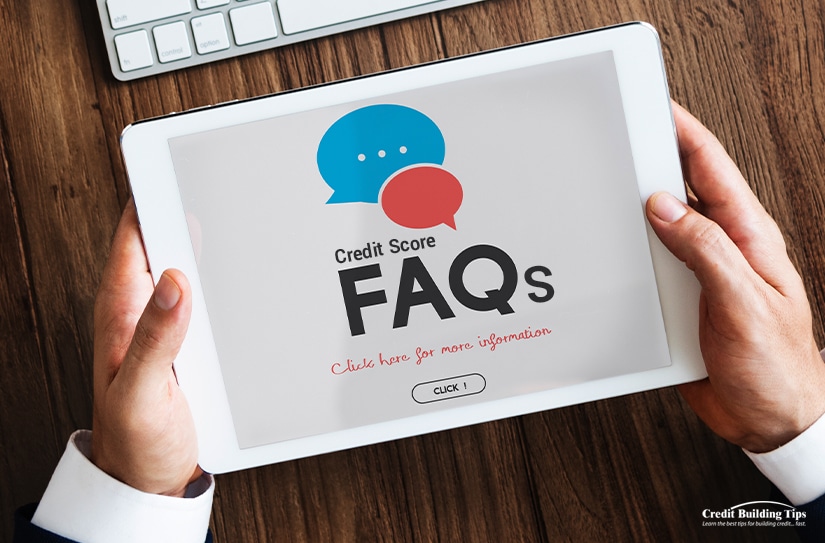 Q: Do credit bureaus score differently?
The scoring models do indicate that each credit bureau has its own typically generated credit score ranges:
FICO: 300 - 850
VantageScore: 501 - 990
Equifax: 280 - 850
Experian: 330 - 830
TransUnion: 300 - 850
Q: Do variations between credit scores ever lead to "consumer harm?"
Harm could happen if, after buying (or getting a free) credit score, a consumer understands their score to be quite different from what a lender would understand it to be. A credit score that's higher than it should be might prompt a consumer to apply for a loan that wouldn't be approved, and their credit score would drop as a result of the hard inquiry.
So, to recap, while getting a free credit report once a year is easy, it takes a little more work to find ways to get a free credit score. You don't just have one credit score, and they're not all the same, but for most people, the difference is minor and doesn't negatively impact their ability to borrow money.