CareCredit has this to say about itself,
"We do something very simple at CareCredit:
We help people get the care they want for themselves and their families."
The card is intended to be used to pay for healthcare expenses that aren't covered by insurance and works similarly to a standard credit card. The CareCredit card is issued by Synchrony Bank, one of the 10 largest credit card issuers in the States, and will show up on your credit report as "SynchronyBank/CareCredit."
Synchrony Financial is a consumer financial services company. Its company headquarters are in Stamford, CT, and it got its start in 1932, during the Great Depression. The company is the largest provider of private-label credit cards in the country.
Some of the brands and cards that have partnered with Synchrony include:
Amazon.com secured credit card
JCPenny Mastercard
JCPenny credit card
Chevron and Texaco credit card
Sam's Club credit card
Verizon credit card
Sleep Number credit card
Guitar Center credit card
Cathay Pacific credit card
Belk credit card
Rakuten credit card
Venmo credit card
Synchrony Bank uses all three major credit bureaus — Equifax, Experian, and TransUnion — to assess your creditworthiness. Their CareCredit credit card is "designed for your health and wellness needs" and lets you buy from 250,000+ healthcare providers in the U.S, including:
Health systems and hospitals
Labs and diagnostics
Primary care/clinics
Specialists
Medical equipment and supplies
Pharmacies
LASIK and vision care
Cosmetic
Dermatology procedures
Dentistry
Chiropractic
Hearing care
Sleep
Fitness
Spa
Weight loss
Animal/pet care

Let's talk about the CareCredit card, how to apply, and what kind of credit score is required for eligibility.
How to Apply for a CareCredit Card
There's an easy and fast way to see if you prequalify for CareCredit:
You can either apply online, or you can call the company and talk to a live agent at 1-800-677-0718 anytime between 9:00 am to 9:00 pm Monday to Friday, EST. You can also call the same number to use their automated system 24/7.
While you can't apply via fax or email, you can apply in person at any of their healthcare providers and select retail locations.
You'll need to be at least 21 years old if you want to apply by phone, but you can apply online if you're at least 18 years old.
You'll get your first billing statement within 30 days of your first payment, which will set up your monthly billing cycle. If you feel your credit limit isn't enough, you can always contact a credit specialist at 1-866-893-7864. They'll help review your needs and see if you qualify for an increased credit limit.
There's no impact on your credit score when you "pre-apply," but if you prequalify and go on to apply for the card, your full application will trigger a hard inquiry, which will affect your credit rating.

The average credit card score you'll need to have in order to qualify for and register for a CareCredit card is
at least 620
. This credit score is considered "fair," and some people have even qualified for the card with a score of 600.
Considering that the two lowest possible credit score ranges are 300-570 (poor) and 580-669 (fair), the CareCredit is one that almost everyone has a shot at getting approved.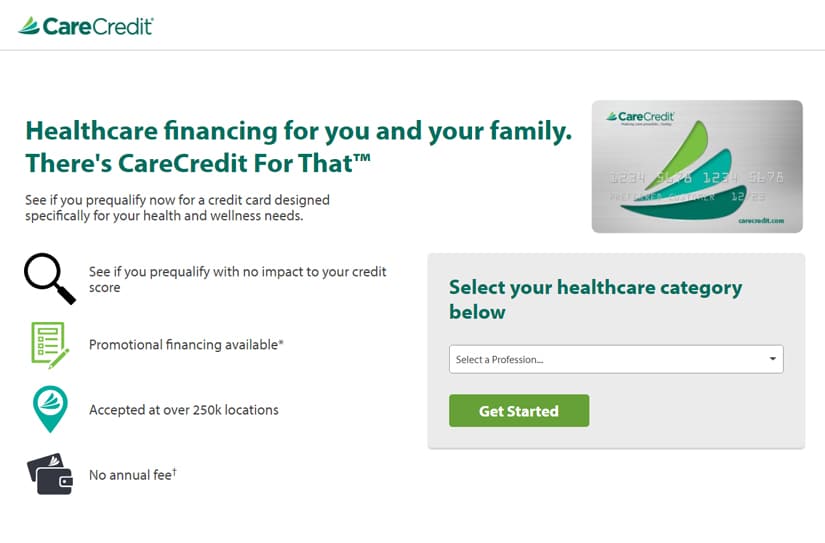 Other criteria that impact your chances of qualifying for the card include the following:
Income
Existing debt load
Number of open accounts
Recent credit inquiries
Employment status
Housing status
When applying for the CareCredit card, you'll need to supply your:
Name
Address
Date of birth
Social Security number or ITIN
Net income
Housing information
Bank account number and details
There's no annual fee if your application is accepted. The card's interest rate is 26.99%, and the minimum interest charge is $2.
Buyer Beware
Although the CareCredit card is a convenient way to pay medical bills and healthcare expenses, there are some downsides you need to be aware of. Remember how earlier in this post, we said, "The card is intended to be used to pay for healthcare expenses that aren't covered by insurance and works similarly to a standard credit card?"

Similarly,
this card is not the same as a credit card.
CareCredit doesn't calculate your payments in the same way as other credit cards do. According to their site, there are two common scenarios for "making payments using each of the promotional financing options available."
The first scenario is "No interest if paid in full within 6, 12, 18, or 24 months." That's for a promotional period on "qualifying" purchases over $200. You'll need to make minimum monthly payments, and if you don't pay the charge off in full within the promotional period time, you will be charged 26.99% interest on the remaining balance.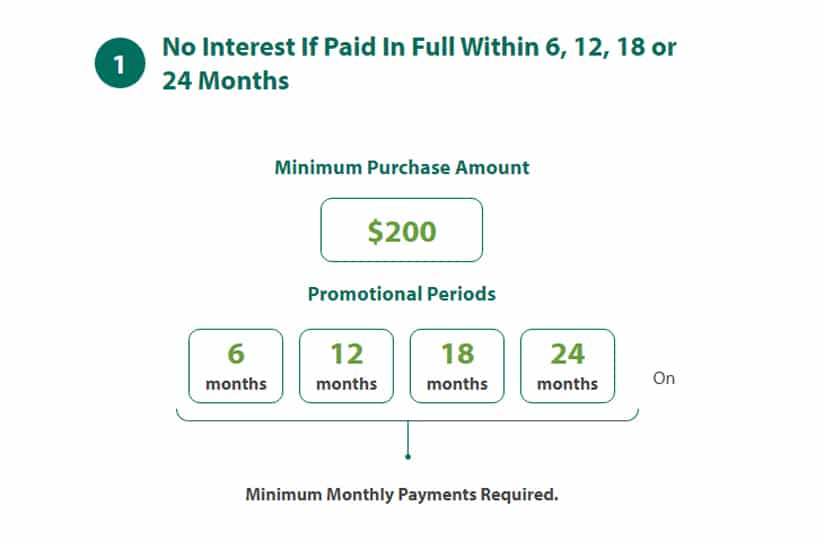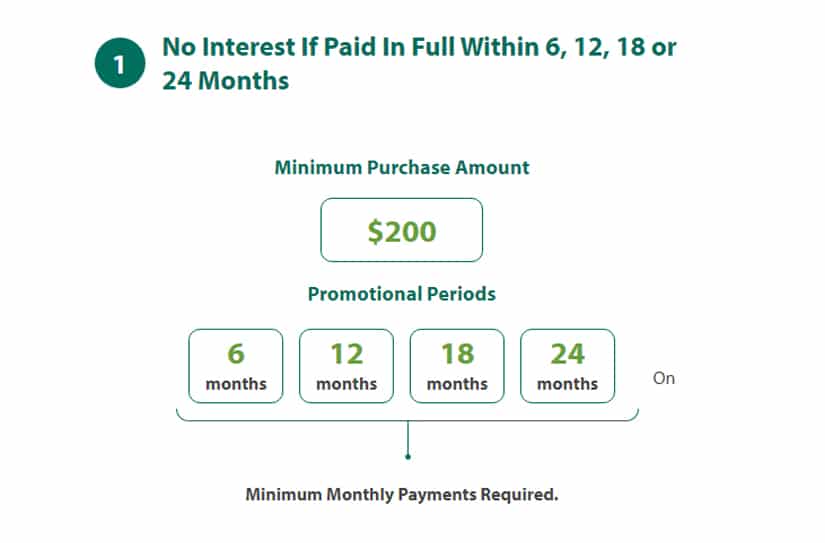 If, for example, you make a purchase of $874.00 on a 12-month interest-free promotional period, in order to avoid paying interest, you will need to make sure that you pay at least $72.83 each month. That way, your account balance at the end of the 12-month period will be $0.
If you simply make the minimum monthly payment of $14.00, you'll be left with $706.00 owing and will now be charged 24.99% interest on this remaining balance until it is paid in full.
And that's just for this single purchase.
Purchases of $1,000 or more may be eligible for a 24-month period with a lower interest rate of 14.90%, a 36-month period at 15.90%, or a 48-month period at 16.9%. Purchases of $2,500 or more could be eligible for a 60-month period with a 17.9% APR.
The "deferred interest/no interest if paid in full" promotional offers only apply if you pay the entire balance in full by the end of the promotional period. Many people get caught in a trap of mistakenly thinking they won't need to pay any interest as long as they continue to make the minimum monthly payments.
How to Pay a Doctor or Provider with Your CareCredit Card
You can pay online for a medical visit by searching for your doctor or healthcare provider by name. This can be the provider's office or a billing address on their invoice.
Enter the city or zip where you received treatment as well the type of service from the drop-down menu of provided professions:
Animal/pet care
Cosmetic
Dental
Hearing
Labs and diagnostics
Medical equipment
Primary care
Sleep
Specialists
Surgery
Vision
Weight loss
The site will search for your provider and ask you for your payment details and CareCredit account. You'll also need to provide the outstanding balance due, an invoice number or patient id, and the date of service. Prompts will move you through the process.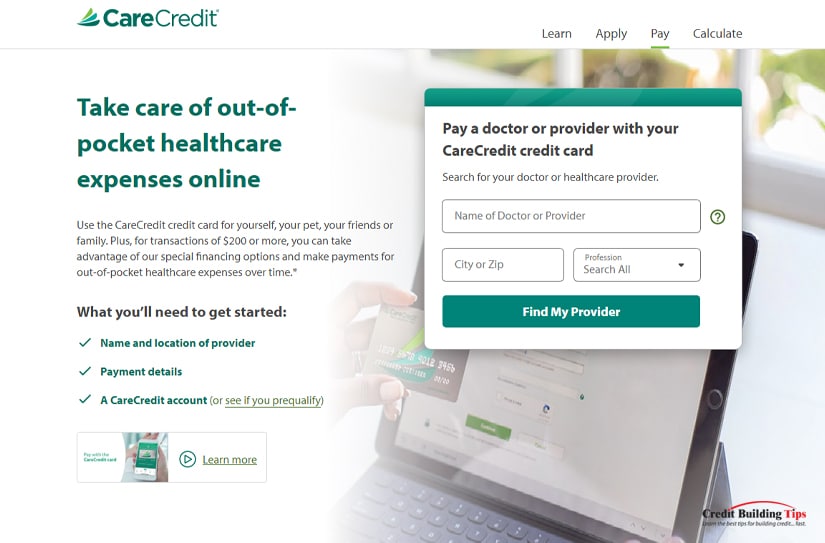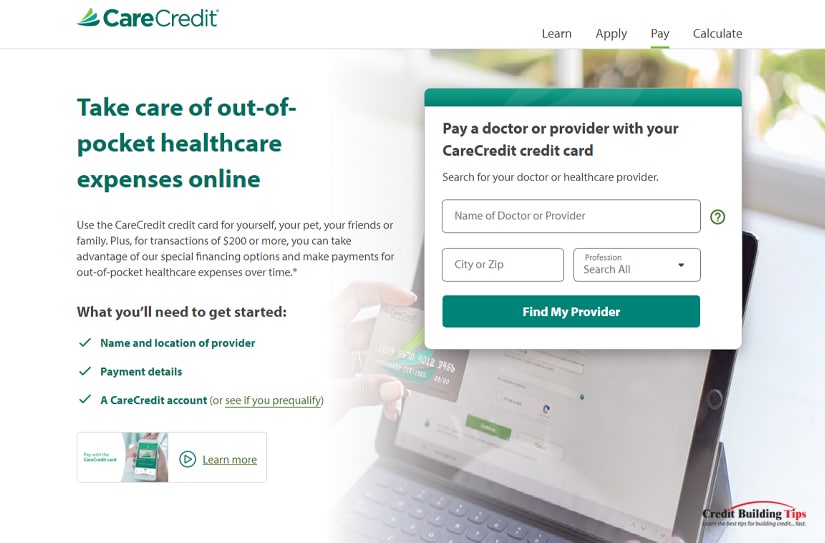 Once you review the information you've submitted, you'll get a confirmation email, as will your provider. Within two business days, the transaction should appear on your CareCredit account.
The company has set up limits on how much you can pay and how often you can pay a specific provider within a specific timeframe. If you pay more than the accepted limit, you'll see an error message on your screen.
Not every medical clinic or doctor will accept the CareCredit card. Only providers who have registered with the company will accept your card. If you can't find your provider, you can refer them to join CareCredit.
How to Use Your CareCredit Card at a Store
If you're using your CareCredit card to pay for goods at one of their partner retail stores, you can simply use it the same way you'd use a credit or debit card.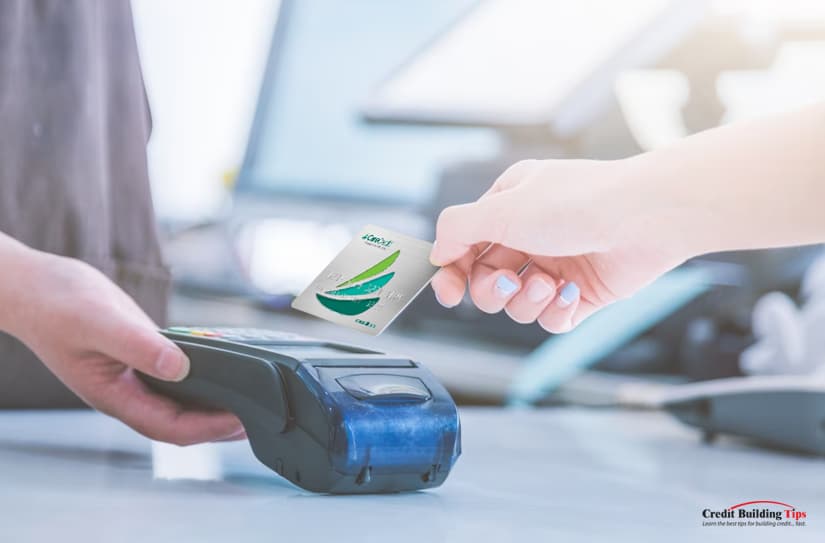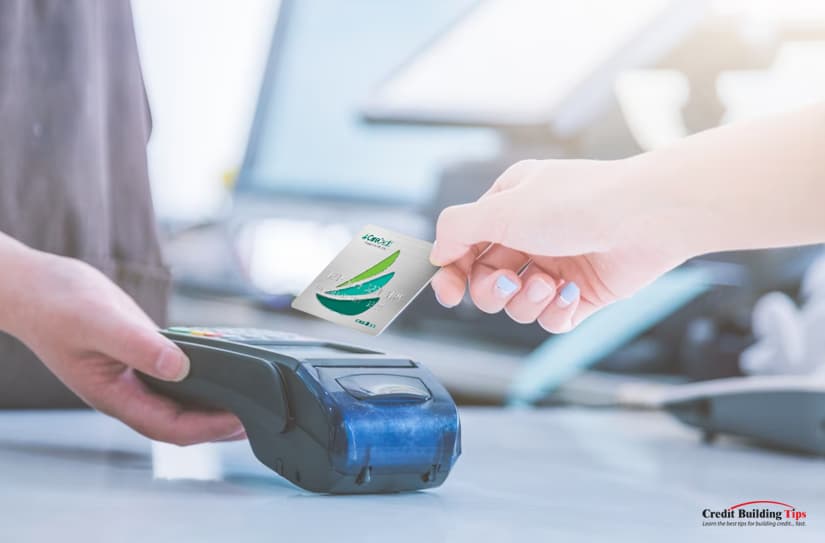 The CareCredit card is accepted at major retail stores like:
Walgreens and Duane Reade — all items except for:

Lottery tickets
Gift cards/reloads
Alcohol
Tobacco
Walmart items including:

Pharmacy

Prescriptions
Deductible and co-pays
Prescription pet medication
Diabetic supplies

Over-the-counter

First aid
Vitamins
Cold/allergy medicine
Allergy relief
Asthma
Blood pressure monitors
Cough, cold, flu medicine
Digestive health
Ear and hearing care
Family planning
First aid
Hot and cold therapy
Lip care
Pain relievers
Probiotics
Sleep and snoring aids
Stop smoking
Thermometers
Vitamins and supplements

Baby essentials

Diapers
Formula
Car Seats
Teethers
Thermometers
Baby books and baby toys
Activity mats
Baby bath
Baby food
Baby lotion
Baby powder
Baby shampoo, conditioner
Baby wipes
Car seats
Diaper rash
Diapers
Infant apparel
Nursing accessories
Strollers
Teething lotions

Optical/vision

Lenses
Frames
Reading glasses
Sunglasses
Contact exam
Contact lens cases
Contact lens solution
Contact lenses
Eye drops
Eye glass exam
Lens cleaner
Lens wipes

Health and beauty aids

Personal care

Body moisturizers
Body wash
Bar soaps
Deodorant and antiperspirant
Body powder
Body hair removal
Hand soap
Hand sanitizers
Feminine care
Incontinence

Dental care

Toothbrushes
Toothpaste
Mouthwash
Water flossers
Dental floss and picks
Teeth whitening
Denture care

Shaving

Electric shavers
Trimmers and clippers
Razors
Razor cartridges
Shaving cream and gels
Beard care

Hair care and hair tools
Walmart Health Centers

Medical primary and urgent care
Dental services
Behavioral health
Labs and immunizations

Pet supplies

Food and treats
Feeding accessories
Toys
Flea and tick
Collars and leashes
Crates and beds
Accessories
Sam's Club

Pharmacy

Prescriptions
Deductibles and co-pays
Prescription pet medication
Diabetic Insulin
Diabetic Lancets
Diabetic Meters
Diabetic Strips

Over-the-counter healthcare

First aid
Vitamins
Cold/allergy medicine
Allergy and Sinus
Analgesics
Antacids
Aromatherapy
Blood Pressure monitors
Cough, Cold, and Flu
Eye Care
Family Planning
First Aid
Footcare
Joint Care
Laxatives
Lift Chairs
Pet OTC
Smoking Cessation Aids
Syringes
Thermometers

Over-the-counter vitamins and supplements

CoQ10 supplements
Energy supplements
GNC products
Herbal supplements
Letter vitamins
Minerals
Multi-vitamins
Omega oils

Over-the-counter diet, nutrition, and protein

Diet bars
Diet drinks and powders
Diet pills
Nutrition bars
Protein drinks and powders

Baby essentials

Diapers
Training pants
Baby wipes
Formula
Pediatric nutrition
Baby hygiene
Car seats
Teethers
Thermometers
Baby books and baby toys
Furniture
Nursing/feeding accessories
Play and discovery accessories
Care and safety accessories

Optical/vision

Contact exam
Contact lens cases
Contact lens solution
Contact lenses
Eye drops
Eye glass exam
Lens cleaner
Lens wipes
Prescription eyewear and sunglasses
Reading glasses

Hearing

Hearing Centers
Hearing Aid Batteries
Custom Hearing Aids
Extended Warranties
Sound Amplification

Beauty aids

Hair care
Hair styling
Shaving products
Skin care
Sun care

Personal care

Adult incontinence
Bar soap
Bodywash
Clippers and accessories
Cotton swabs
Dentures
Deodorant
Face care
Feminine protection
Hair regrowth
Liquid soap
Mouthwash
Toothbrushes
Toothpaste

Pet Supplies

Food and treats
Feeding accessories
Toys
Fleas and ticks
Collars and leashes
Crates and beds
Accessories
Make a Payment for Your CareCredit Card
CareCredit lets you pay your card statement in several ways. You can:
Call customer service at 1-866-893-7864, Monday through Sunday, from 8:00 am to midnight EST.
Mail your payment to Synchrony Bank, P.O. Box 960061, Orlando, FL 32896, or overnight mail to Synchrony Bank, 140 Wekiva Springs Road, Longwood, FL 32779.
Send a bank transfer via ACH Transfer — register here.
Send a bank wire via Western Union — code: LOW, state: OHIO.
Make a guest payment by entering your card number, the last four digits of your Social Security number, and your zip code. Once you tick the Captcha box, you'll be able to find your account.
If you worry your payment may be late, call the office at 1-866-893-7867 before the payment due date, as Synchrony may be able to offer you choices that fit your needs.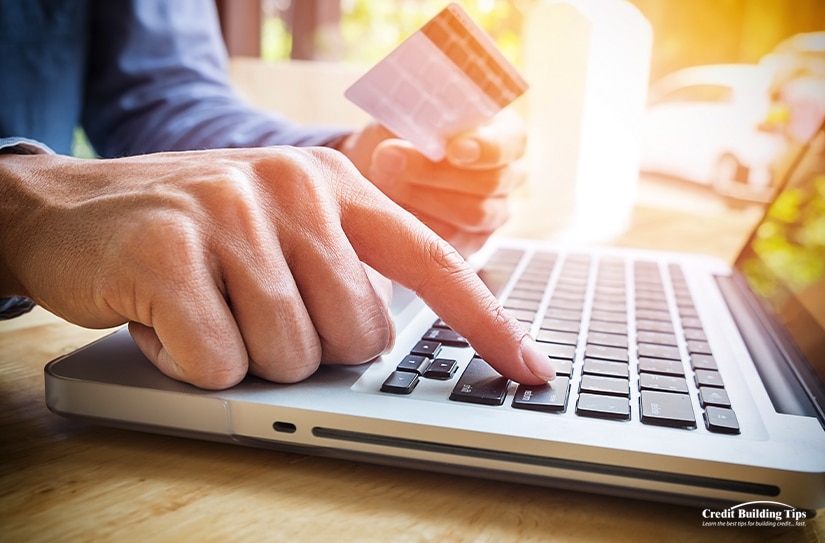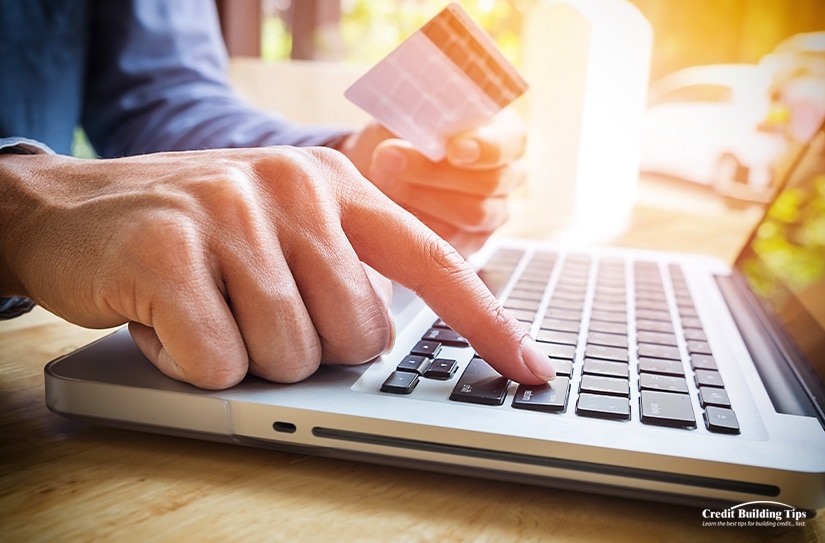 The best way to make a CareCredit card work for you is the same as the best way to make any credit card work. Pay your statement balance in full — every single time, and you'll not only maintain your credit rating, but you'll also improve it!
Think about paying at least half if you can't pay the full balance. If that's simply not possible, pay as much as you can. Make sure you pay at least the required minimum monthly payment on time. If you miss the payment date, you'll be charged late fees of up to $41 plus interest on the unpaid balance.
If you can only make a minimum payment every month, it will take a long time to pay off your debt, and you will inevitably waste a lot of money on interest fees. This will also negatively affect your credit score.
Check your monthly statement as soon as it arrives in the mailbox or your inbox. It's good to make sure the statement aligns with the receipts you've collected over the month.
If you don't recognize some of the charges, you'll want to contact the company that issued the charge. If that doesn't clear up the mystery, contact the credit card company immediately.
You may be the victim of identity fraud. Or you may find out that you're still paying for a subscription you no longer use that still's taking automatic payment from your account.
Credit can be tremendously helpful in today's financial world, but only if you use it wisely and well. Having good credit is the best way to take advantage of lower interest rates and work towards qualifying for a future home mortgage or other major expense.