/

/

Maurices Credit Card: Login, Customer Support & Payment
Maurices is a retail store with nearly 900 locations across the U.S. and Canada. It sells women's clothing in a wide range of sizes from 0-24. In 2022, Maurices started carrying a new line of clothing for girls aged 8-12.
The Maurices credit card is what's known as a "closed-loop" credit card, one that can only be used at a Maurices store. You'll need at least a credit score of 640 — fair credit or better.
Comenity Capital credit cards co-branded with a variety of companies like Maurices. Other companies in their closed-loop credit card stable include Ikea, Bed Bath & Beyond, Sportsman's Warehouse, PlayStation, Farmers Insurance, and Lexus.
All Comenity Cards are "products of Comenity Bank and Comenity Capital Bank. These are all under the Bread Financial umbrella, a "tech-forward financial services company [that] provide[s] simple, personalized payment, lending, and savings solutions.
You can pay your Comenity Bank credit card bill online, over the phone, or by mailing your payment to the bank. You can also search for your co-branded credit card's contact information on the Comenity website.

In this blog post, we're going to share all the ways you can log in, pay and connect with the bank, all in one convenient place.
Go Online
The first step to getting a Maurices credit card is to apply online.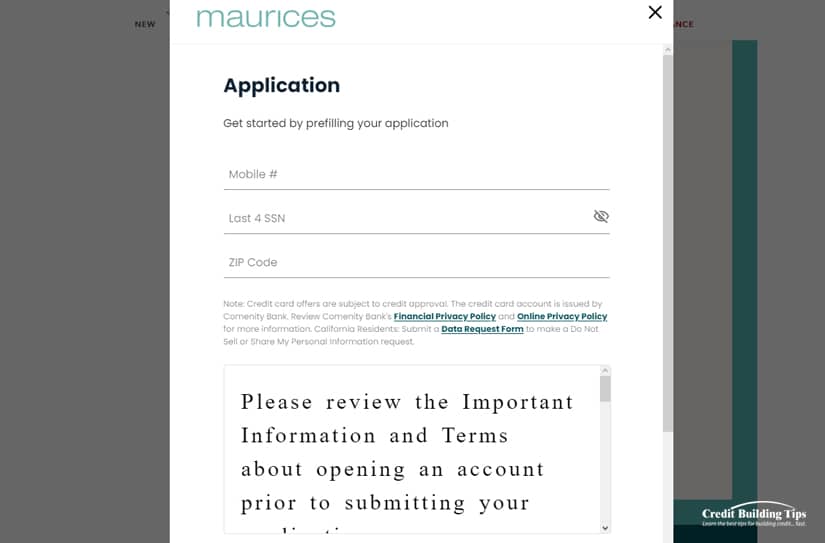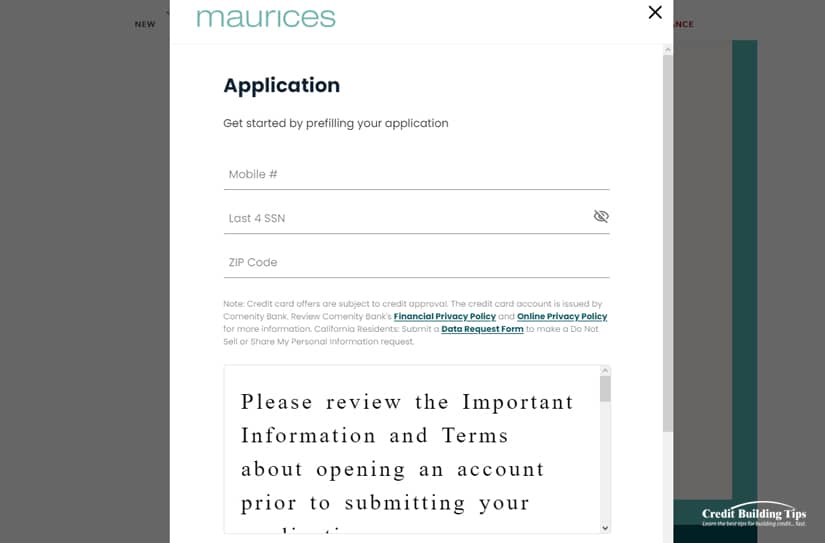 You can get started by providing your:
Mobile phone number
Last four digits of your Social Security number
Your zip code
By providing your mobile number, you are agreeing to receive a one-time security code for the number provided. Once you take this step, you'll move to the next application step.
If your application and approval happen on the same day, you'll receive a special offer:
15% off your first purchase
100 bonus points (a $5 reward)
Once you have been approved for the card, you can sign in to your account.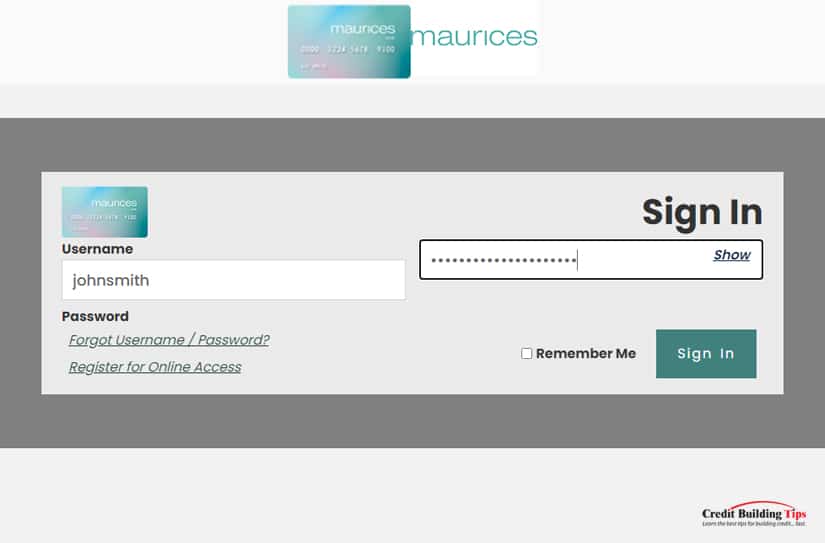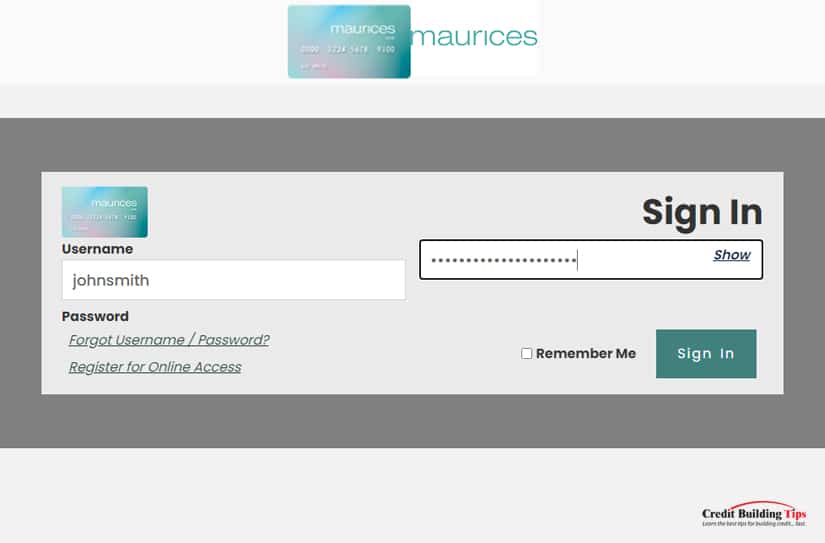 You'll just need to provide your:
And if you've forgotten your username or password, you can go here to confirm your identity:
Account number
Zip code
Social Security number (or Alternate Identification number AIN)
The last four digits of your Social Security number
When you sign in, you can make online payments once you've provided your bank account and routing numbers. Go to the Checkings Section of Account, and select "Add an Account" to enter new checking information.
Make sure to submit your online payment before 5:00 pm EST on the due date shown on your statement.
Maurices also lets you set up automatic payments for your account. You can schedule an automatic payment of your:
Minimum payment
Current balance
Any other amount of your choice
If you want to make a one-time payment even though you're not registered on Account Center, you can do so through Comenity's EasyPay.
You can also send a message to the Secure Message Center through the sign-in portal. You'll receive an email to let you know your message has been posted and will be seen. Up to five attachments totaling up to 5MB can be included in your message.
Make a Call
Call Customer Care to reach a team member and get help with your account:
1-866-248-4488
1-888-255-1557
You can also reach them with TDD/TTY at: 1-800-695-1788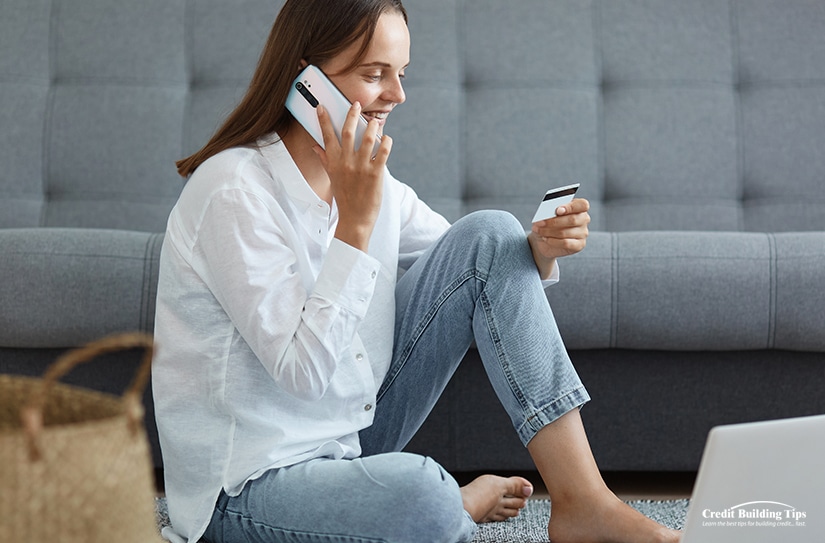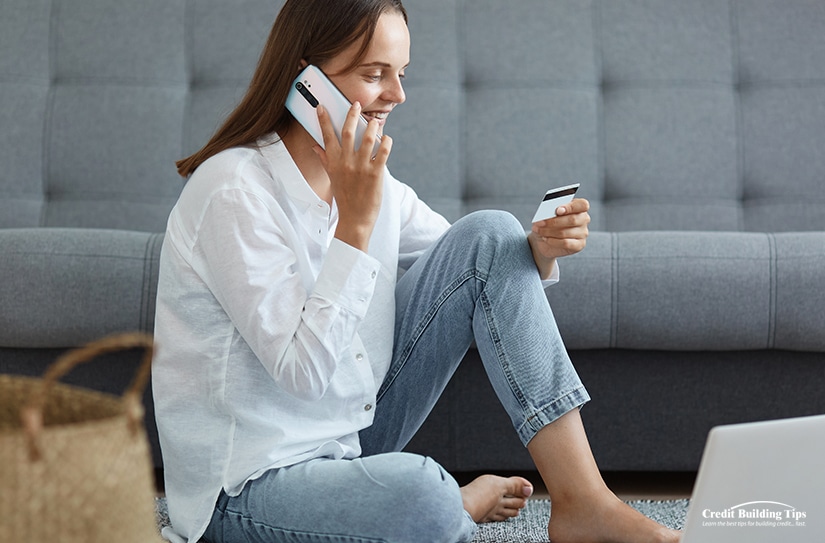 Calls are answered:
Monday through Saturday from 8:00 am to 9:00 pm EST
The call center is closed on Sundays
Live Customer Care hours may vary on holidays
The best time to call is 10:15 am
You can use the same number to make a payment on your Maurices credit card account. After entering your credit card account number, you can follow the prompts to schedule and submit a payment.
Get in touch with Maurices' customer service faster by going to GetHuman's website. Type "Maurices" in the search bar, and you'll find the store's customer service number.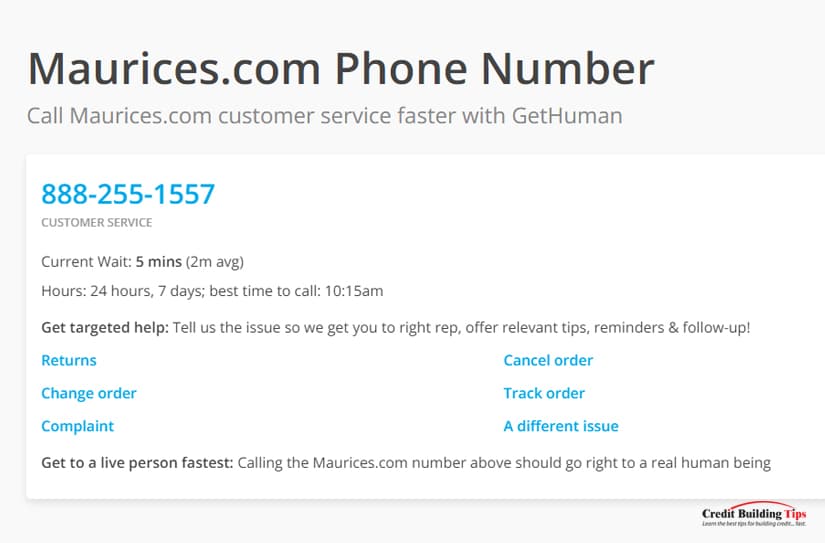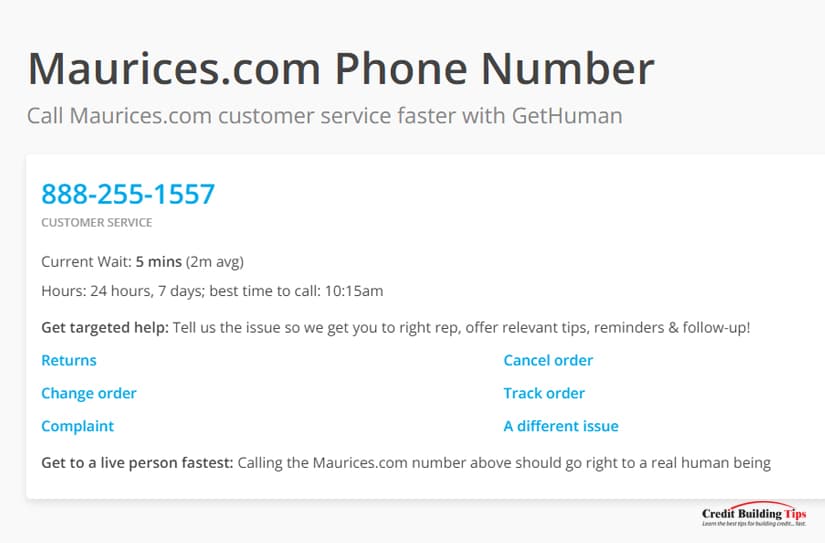 The site also gives you the following:
The current wait time to talk to a human
The opportunity to get targeted help for:

Account access
To get banking help
To cancel your account
To dispute a charge
If you are having trouble sending a payment
If you have a different issue
You can also choose to chat with an expert online now with Get Human's Just answer experts.
You can also read Maurices head office by calling their toll number: 1-218-727-8431
Send a Letter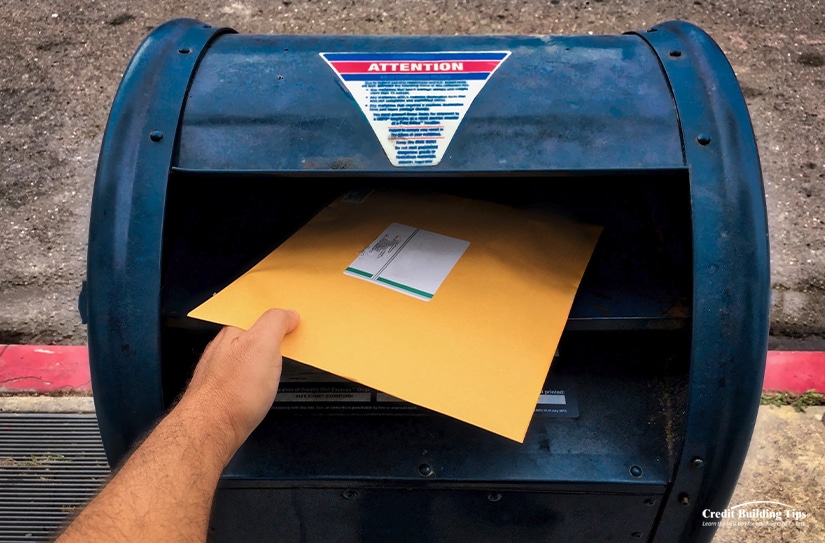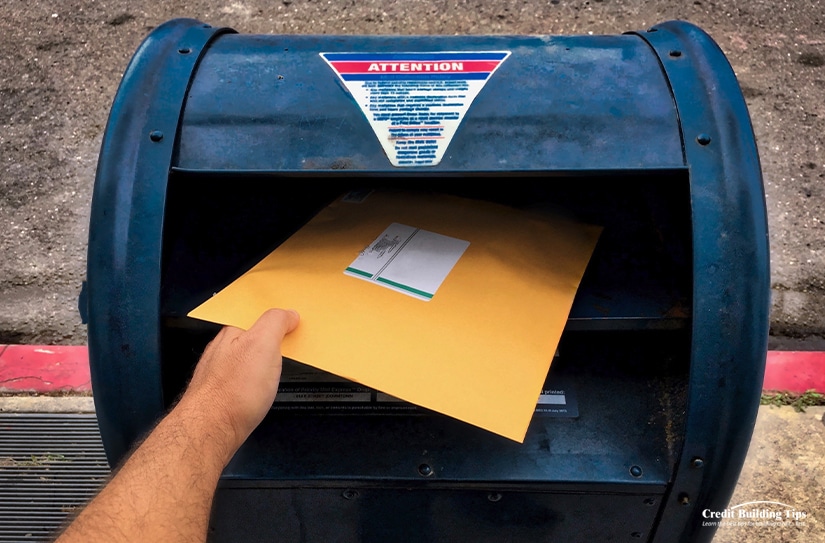 Send all correspondence to Maurices Customer Care address:
Comenity Bank

PO Box 182273

Columbus, OH 43218-2273
Use this address to pay for your account by check or money order:
Maurices Credit Card

PO Box 659617

San Antonio, TX 78265-9617
Pay a Visit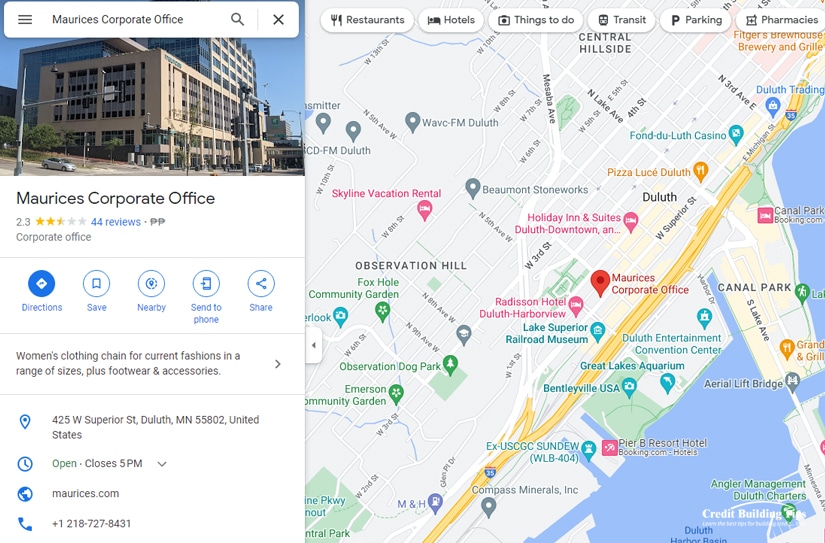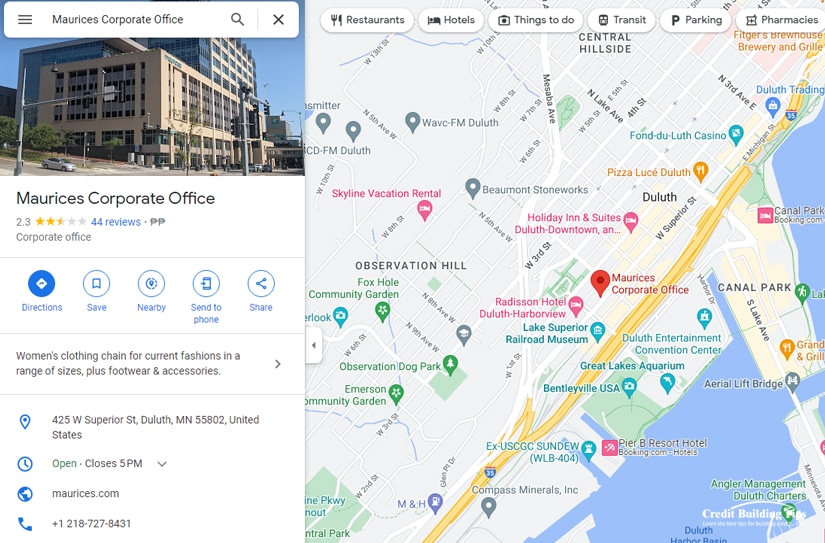 The address of Maurices corporate office is:
Maurices Corporate Office

425 West Superior Street

Duluth, MN 55802
FAQs about Logging in and Paying Your Maurices Credit Card
Q: There's a delay in the credit bureau reporting for my Maurices credit card. What's happening?
A: The company has been experiencing difficulties with its customer reporting agencies through December 2022. They should have all issues sorted by now, but you can send a message to their Secure Messaging Center, where they'll take the necessary action as soon as possible.
Q: I've been locked out of my account. How can I fix this?
A: If you've tried multiple times to sign into your account, Maurices will temporarily suspend your online account as a security measure. You'll receive an email to the email address they have on file for your account with instructions on how to resume account activity.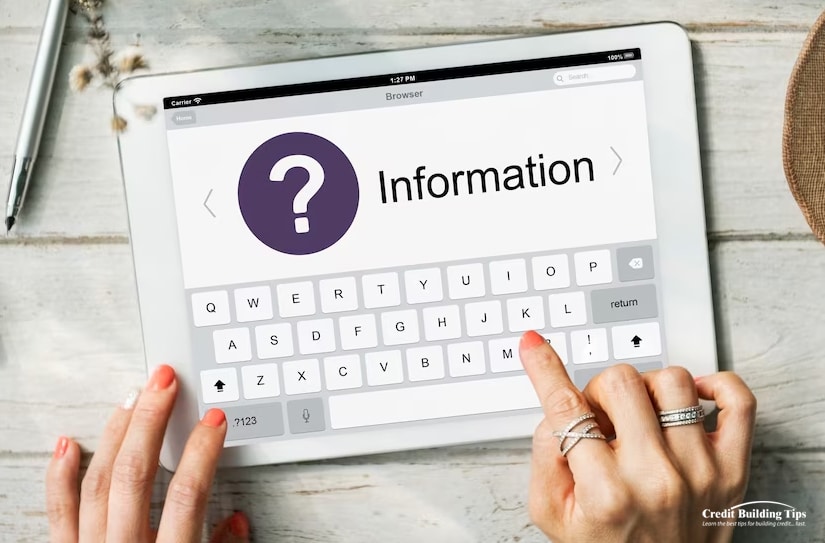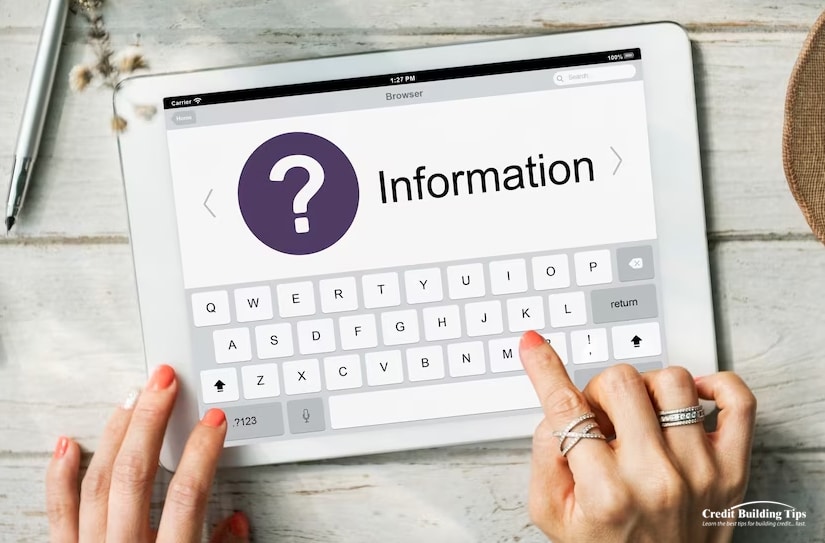 Q: Does Maurices provide support for third-party money management tools like Mint?
A: Maurices aren't able to provide tech support for any third-party tools; they do have the ability to link Comenity and Comenity Capital-issued cards to Intuit-based tools, including Quicken and Mind.
Follow these steps to add your Maurices Credit Card account to Mint:
Sign in to your Mint account
Select "Add Account"
Search for the name of your Maurices Credit Card account
Select your Maurices Credit Card account and follow the prompts
Q: Does Maurices have a Digital Card?
A: Yes, you can enroll for the Maurices Digital Card. This will give you access to your account details on your phone and lets you shop using your phone as your Maurices Credit Card.