/

/

Lowes Credit Card: Payment Login Page and Customer Service Info
Lowe's grew from one small-town hardware store in 1921 and located in North Carolina to one of the biggest home improvement stores in the world. As of the beginning of this year, there are 1,738 Lowe's stores in the United States in 51 states and territories and 1,264 cities.
Their strategy is "rooted in serving our customers," and their mission reads: "Together, deliver the right home improvement products, with the best service and value, across every channel and community we serve."
In 1984 the company was named a "Top 100 Best Companies to Work for in America" by Fortune Magazine, joined the Fortune 100 for the first time in 2002, and expanded outside of the United States in 2007. The company has now been in business for over 100 years and is doing better than ever.
Synchrony Financial, a "leader in consumer financial services," joined Lowe's in introducing the Lowe's Credit Card in 1979. They expanded to include commercial financing in 1993 and set up "additional programs for accounts receivable and major purchases, including up to 84-month fixed monthly payments at 5.99% APR, provide financing solutions for businesses and consumers in the U.S. and Canada."
Lowe's Advantage Card customers can choose between:
5% discount on certain purchases
Six-month financing options on purchases over $299
Fixed payments for 84 months with a reduced APR on purchases over $2,000.

Let's talk about their online payment portal access, how to pay your bill, contact customer service, and more!
Go Online
To begin the application process for a Lowe's Advantage card, you can see if you pre-qualify by filling in the last four digits of your SSN/ITIN and your mobile phone number. You'll then be prompted to "Continue" to complete your pre-qualification application.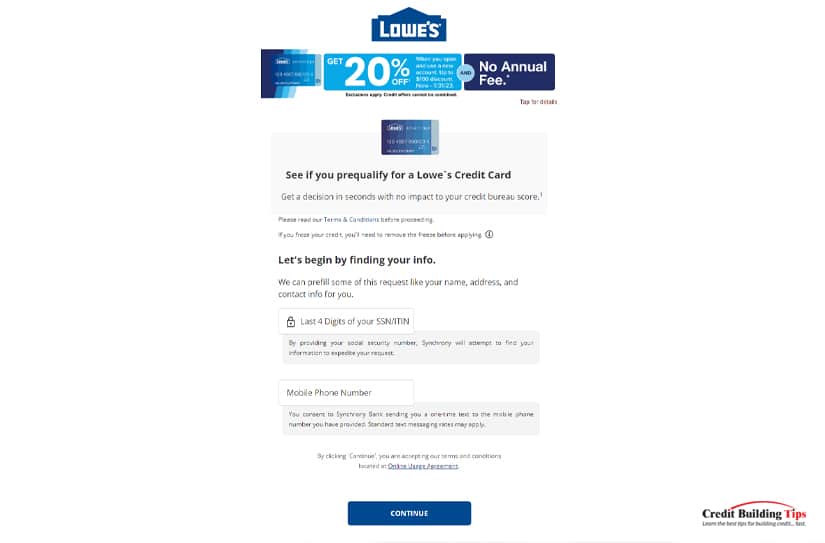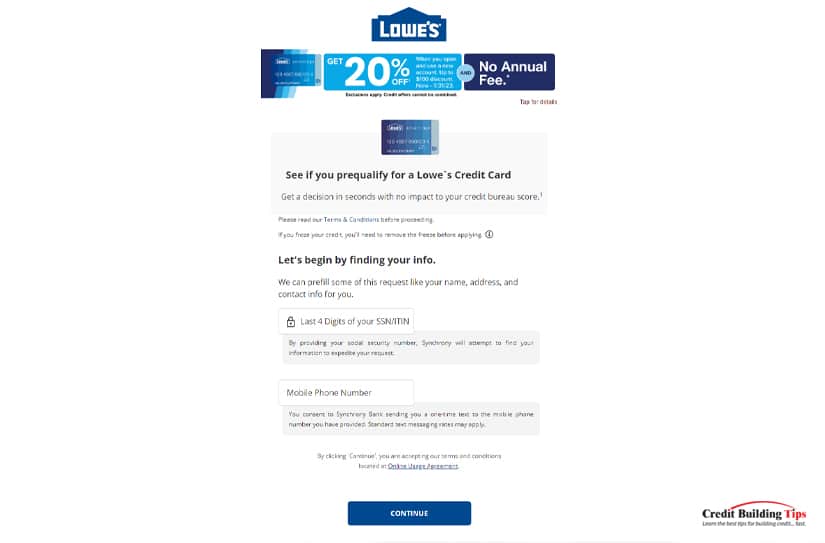 Once you have been approved for the card, you can register for online access by filling in your:
You'll then be able to securely log in and access your account with your:
Forgot your user name? Get help. Forgot your password? Reset your password.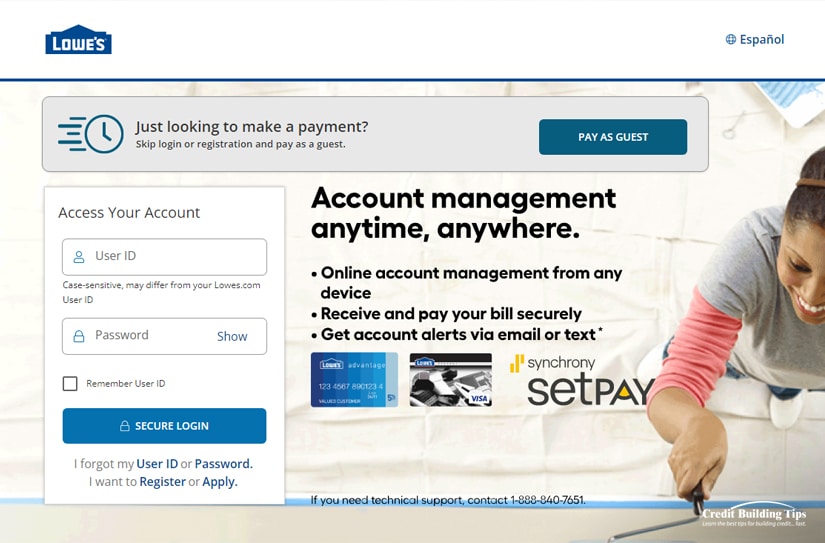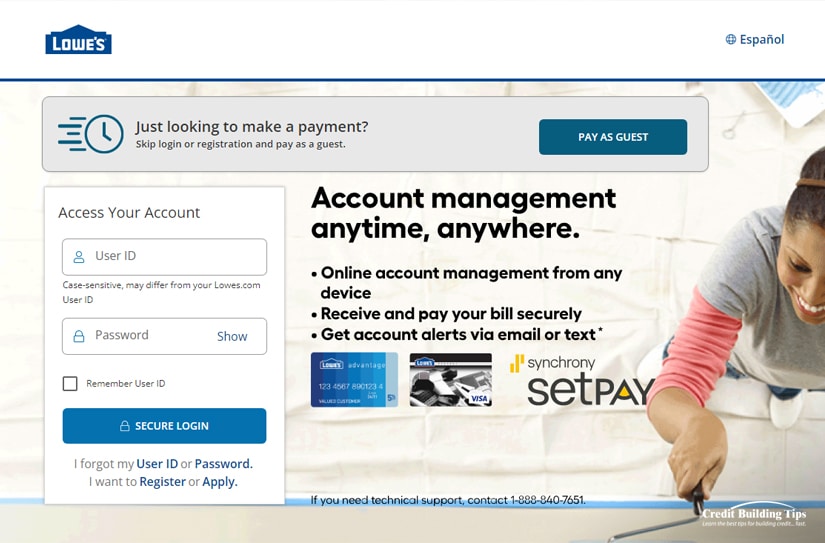 "Manage your account anytime, anywhere" from any device where you can securely receive and pay your account. You can also get account alerts via text or email.
You can even pay your credit card statement without logging in by entering your
Card number
Last four digits of SSN
Billing zip code
Download the Lowe's Mobile App for iOS and Android. The app lets you scan items you're looking at in the store and instantly find the price.
You can sign into your MyLowe's account to check on any purchases and orders, look up what payment methods you have stored, and update your account profile.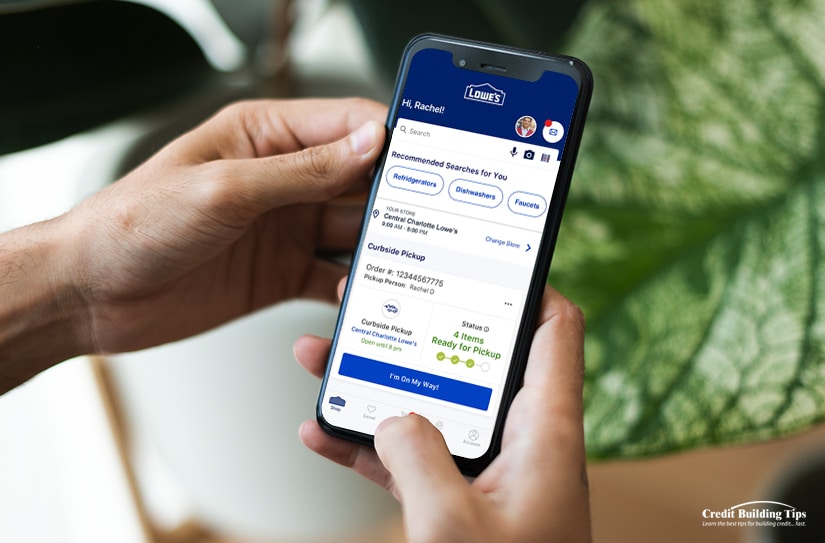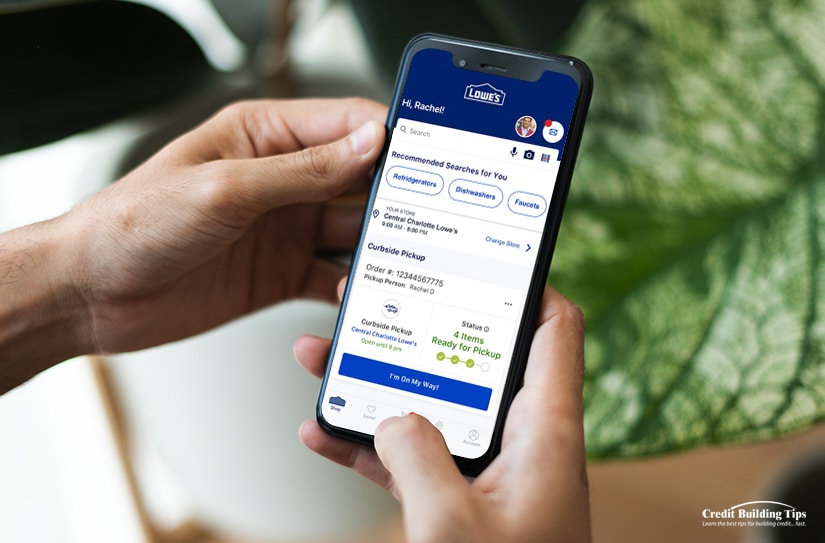 Get in touch with Lowes customer service faster by going to Get Human's website. Type "Lowes" in the search bar, and you'll find the store's customer service number. The site also gives you the following:
The current wait time to talk to a human
The option to skip waiting on hold
The opportunity to get targeted help for:

Account access
To get banking help
To cancel your account
To dispute a charge
If you are having trouble sending a payment
If you have a different issue
You can also connect one-on-one with an expert online now with Just Answer Experts. You'll get your answer in minutes with personalized help from verified experts. Join for a small monthly fee to get unlimited chats, plus global travel protection and instant deals. Cancel anytime.
We can save you some time looking for other ways to contact Lowe's. The company does not have the following:
A chat option
Customer email
A Twitter handle
A Facebook page
Make a Call
Lowes credit card's toll-free phone number will get you to customer service: 1-800-444-1408
This is the best phone number to use for Lowes, according to the 5,520 GetHuman customers surveyed. They also reported that this phone number allowed them to:
Get targeted help
Setup an account
Make a complaint
Ask a question
Request a lower rate
This toll-free number is answered 24/7, and the best time to call is 2:15 in the afternoon. In order to get to a live person fastest: Press 0# every time you are asked for an account or social security number, then keep pressing 0 until you're transferred to a live human.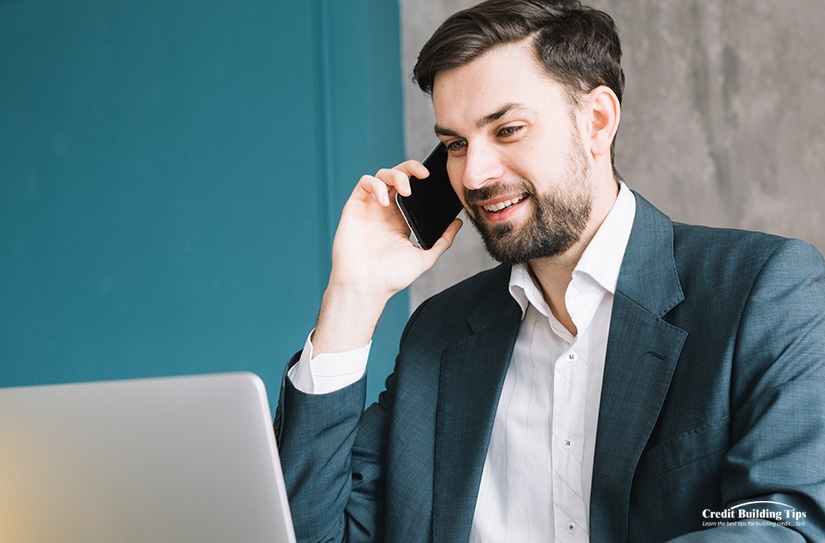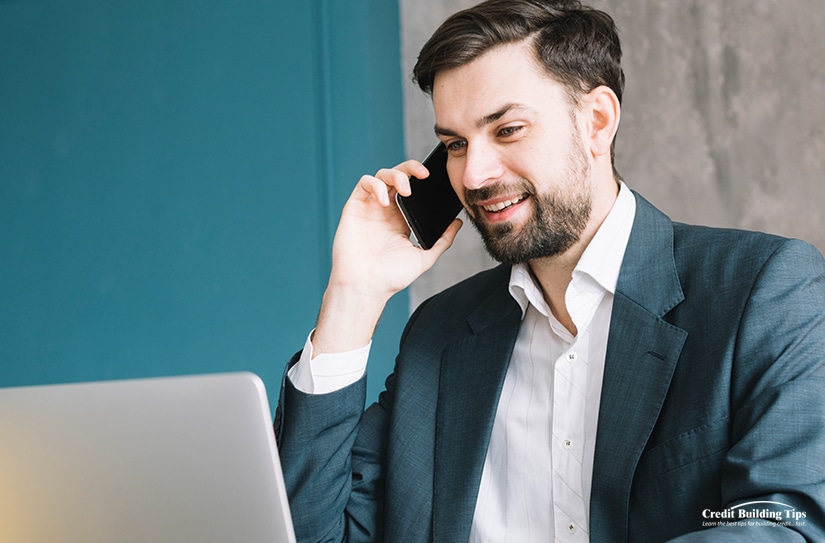 You can skip waiting on hold by requesting a callback service. Fill in the phone number you would like a return call made to (make sure to include your area code). GetHuman will dial, navigate through Lowe's phone maze and wait on hold for as long as it takes for a customer rep to answer the call.
Once the call is answered, GetHuman will call you back and connect your call to the Lowe's Credit agent. All of this for free by GetHuman. The company leverages technology and runs ads to offset any costs.
A separate toll-free phone number will allow you to get technical support: 1-888-840-7651
Send a Letter
Mail your credit card payment to:
Lowe's
PO Box 530914
Atlanta, GA 30353-0914
If you're paying with a check, you'll need to remember that sending your payment by mail takes the longest. Make sure to mail the payment at least seven days before the statement's due date so your payment isn't late.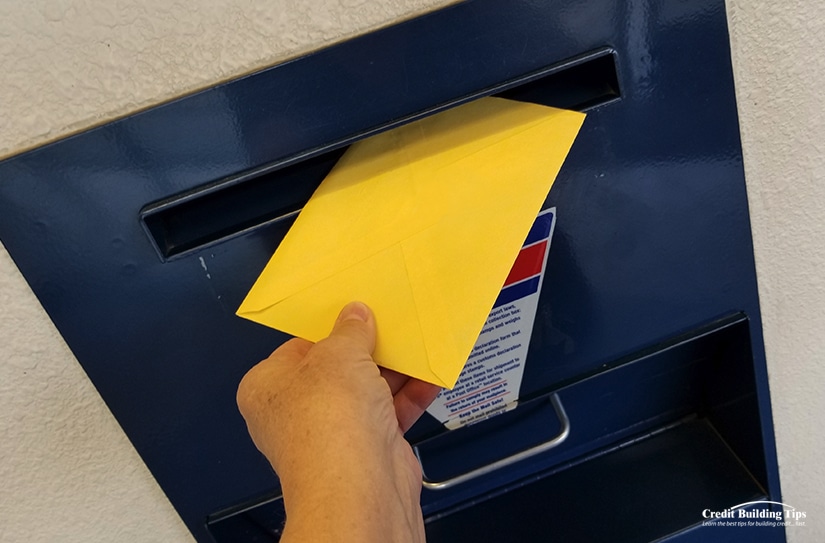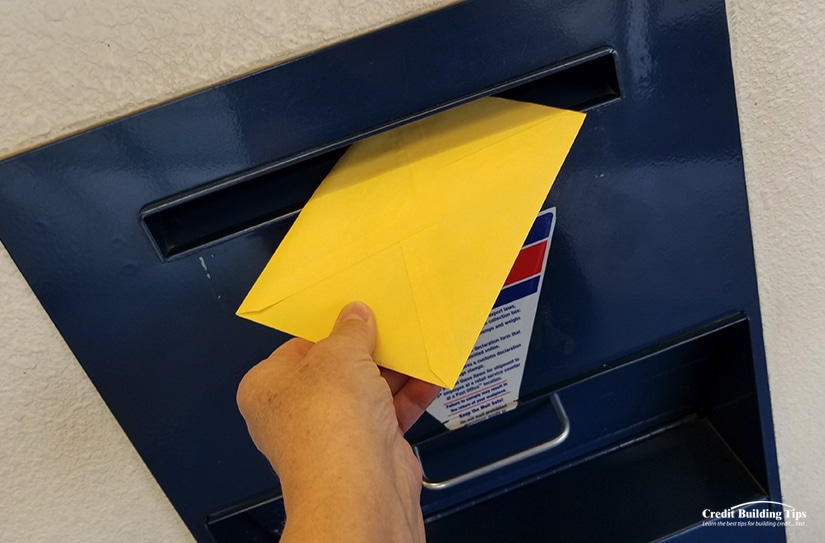 Don't forget to write your name and account number on the check as well.
Visit a Lowe's Store
Go to any Lowe's store to apply in person for a Lowe's Advantage Credit Card. The decision can be made within minutes.
Once you get your Lowe's Advantage Credit Card, you can use it at any of the Lowe's locations. You can also go online to the company's website to make purchases.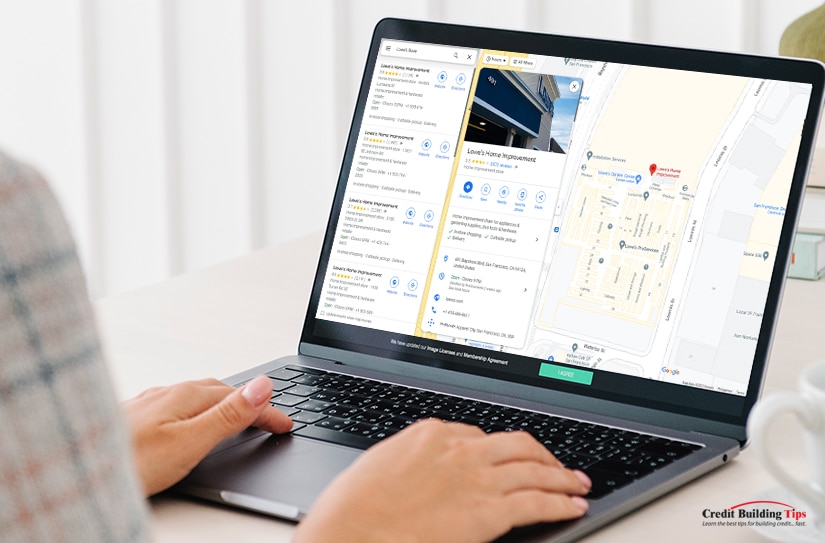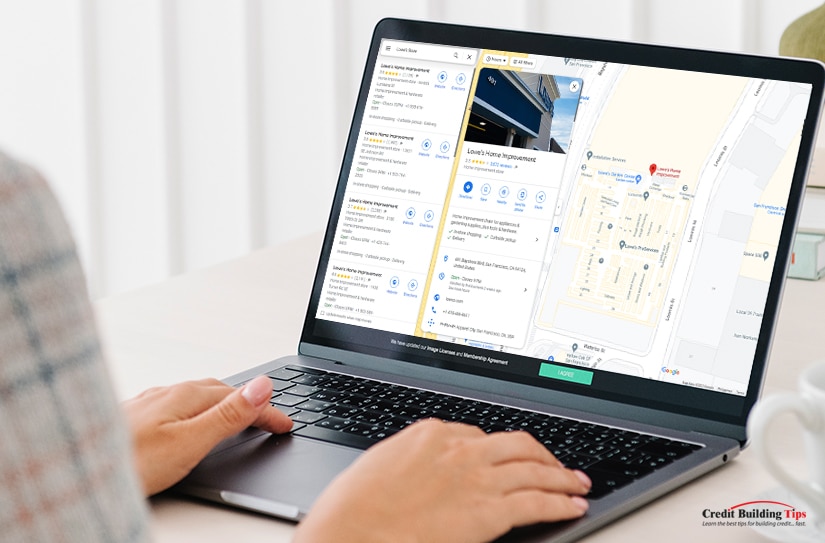 The Lowe's Advantage Credit Card is best for "home improvement gurus and do-it-yourself types." Even if the cardholder doesn't take advantage of any special financing, a customer who buys many home improvement products can save significantly with the 5% off promotion.
For a homeowner embarking on a major home renovation, choosing the option to finance the cost of materials over 84 months at the 7.99% APR will result in them paying much less than with most other credit cards.
There's no annual fee, and just like any other credit card, the Lowe's Advantage Card can help build your credit if you make regular, timely payments.