/

/

How Do I Access My Carter's Credit Card Account Online?
If you haven't heard of Carter's credit card, you may not currently have young children. In the spring of 2019, Carter's Inc., the "largest branded marketer in North America of apparel exclusively for babies and young children," launched a new branded credit card program for its retail stores and eCommerce channels.
By the end of that summer, the credit card was available in all U.S. stores and on their websites. The card can be used at any of the parent company's family of brands: Carter's®, OshKosh B'gosh®, Child of Mine, Just One You, Genuine Kids, Little Planet® and Skip Hop®.
Cardholders can earn two points for every dollar they spend in one of these stores, and every accumulated 150 points are worth a $10 reward. On Triple-Points Day, each dollar spent will be worth three points.
You can also choose three bonus days every year, at your convenience, in order to earn three points for each dollar spent. In order to qualify for triple points, you need to have a valid email address and a U.S. mailing address.
Extra perks that come with the card include free standard U.S. shipping on carters.com, oshkosh.com, skiphop.com, and shoplittleplanet.com online orders. You'll also qualify to receive a surprise birthday offer for your child through your My Rewarding Moments account.

This guide will walk you through the process of paying your Carter's credit card online, as well as providing customer support and mail info.
Use Their Online Access
To apply for a Carter's credit card, you must:
Be at the age of majority in your state or territory
Have a valid, government-issued photo ID
Have a valid government-issued tax Social Security number
Have a street, rural route, or APO/FPO mailing address
Have at least one mobile or alternate phone number
The application requires the following:
Your first name
Your last name
Your street address, city, state, and zip code
Your email address
Your home or cell phone number
Your Social Security number
Your date of birth
Your annual income
You'll also have an opportunity to add someone to this credit card account. These "authorized buyers are allowed to purchase on your account; however, as the primary account holder, you are responsible for payments on all purchases.
You may add one authorized buyer to your account [when you first apply for a card]. Once your account is open, you may add up to four total authorized buyers."
Simply add the following information to your application:
Their first name
Their last name
Their date of birth
Their relationship with you (choose from a drop-down menu)
Once you've reviewed the Important Information and Terms, the Important Information Regarding Electronic Communication, and the Consent to Financial Terms of the Account, you will be able to check the "I Consent" box and then submit your application.
Set up online account access if you're a first-time user.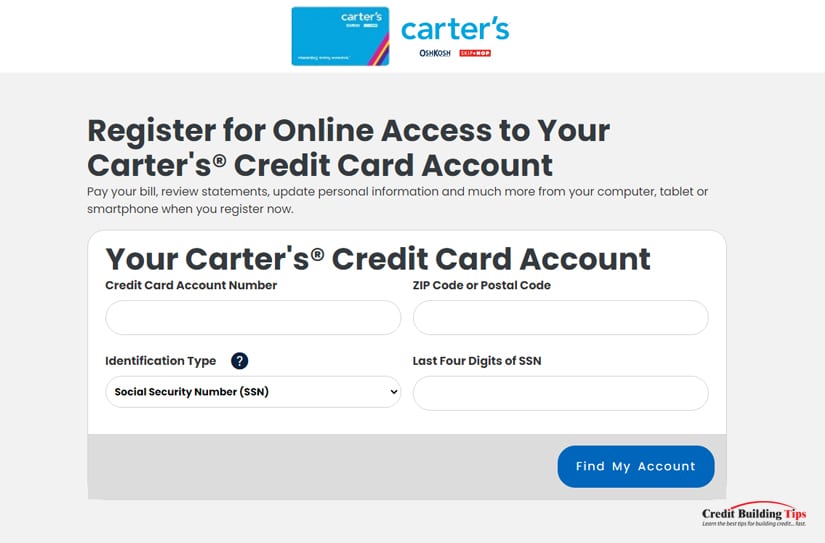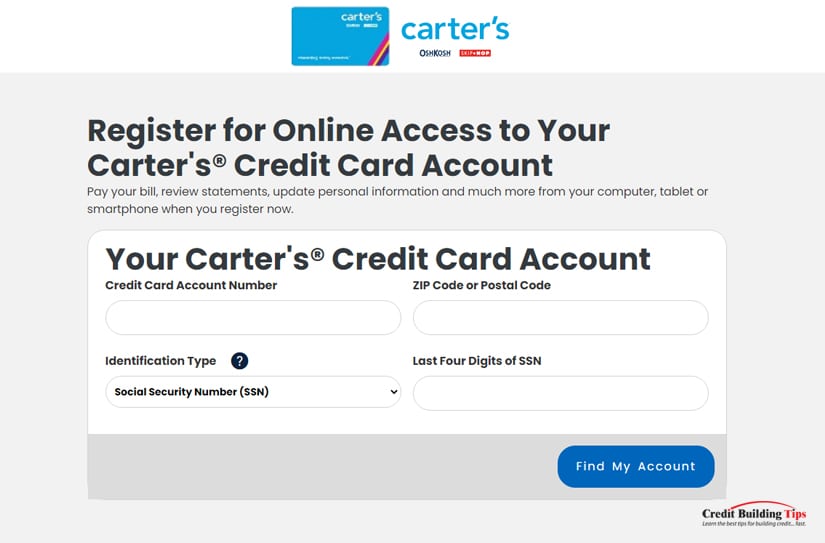 Simply register for online access to your Carter's® credit card account by filling in the following information:
Your credit card number
Your zip code
Indicate the type of identification you'll use: Social Insurance number or an Alternate Identification (AIN)
The last four digits of your Social Security number
You'll then click "Find My Account" to gain access.
Once you have an account set up, you can access your account with a secure login by entering your username and password. Once you're logged in, you can:
Pay your bill
Review your statements
Update your personal information
You can ask the site to "Remember Me." Make sure not to use this option on a public computer to maintain security with your card.
You can also pay your credit card bill without creating an online account.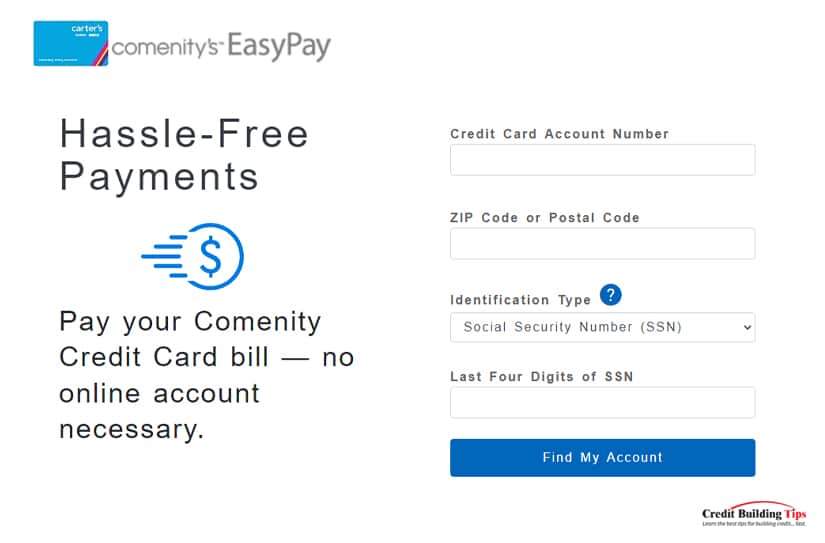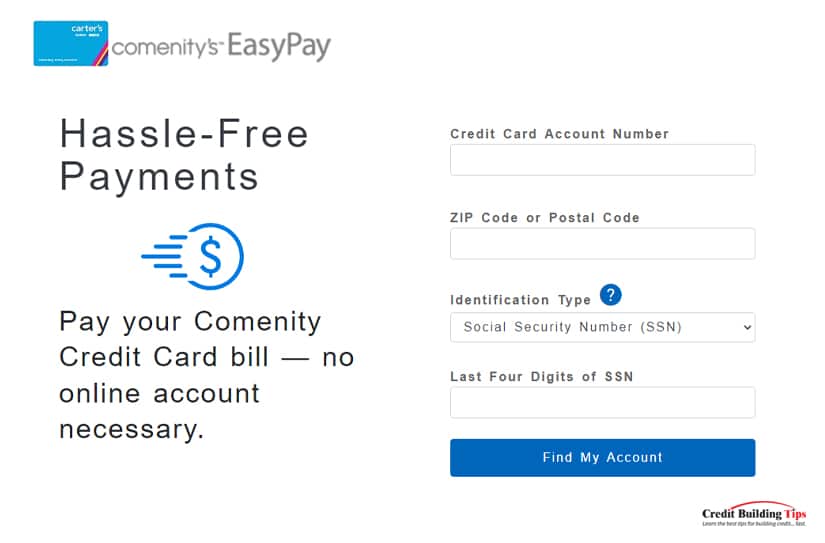 You'll be asked to provide your:
Credit card account number
Zip code
Identification type (SSN or AIN)
The last four digits of your SSN
A Carter's credit card is issued by the Comenity Capital Bank. If you're having trouble logging in to your account, you can log in to Comenity's account center for "monitoring use or paying bills."
The signing-in process is similar to the Carter's credit card sign-in. Once you click "Sign In," a pop-up box will appear asking for your username and password.
At this time, Carter's doesn't offer a mobile app to manage your credit card, but you can use your mobile phone or tablet to log in and view your account.
If you're still stuck, and none of the above options work, you can send an email to their Customer Service department at contactus@carters.com.
Contact Them By Phone
Their toll-free phone number, where you can make a payment, report a lost or stolen card, and reach a live customer service representative, is: 1-877-563-5767
For TDD/TTY, call: 1-888-819-1918
For complaints and headquarters, call: 1-888-782-9548
For orders and cancellations, call: 1-877-333-0117
To cancel an order, call: 1-762-232-1399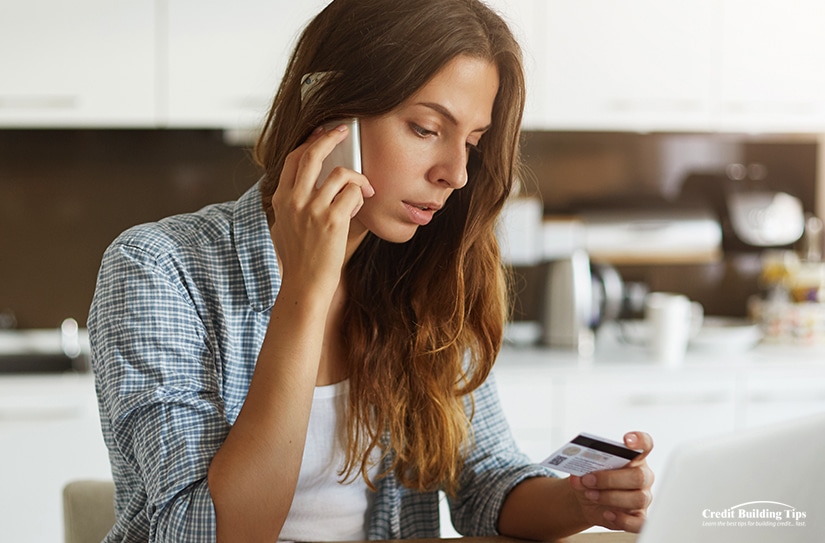 Calling features:
Your call will be answered by a real person
The call center hours are Monday to Saturday, from 8:00 am to 9:00 pm CST
The best time to call is at 10:45 am CST
This same toll-free number also lets you talk to someone regarding your:
Credit card bill payment
Lost or stolen credit cards
Credit protection
Carter's urges you to "be cautious about outreach to you. While we (Carter's) may try to contact you through phone, email, or text, it's important to know we would never ask for your Social Security number or credit card account number."
Get in touch with Carter's, Inc. customer service faster by going to GetHuman's website. Type in Carter's in the search bar, and you'll find the credit card company's customer service number.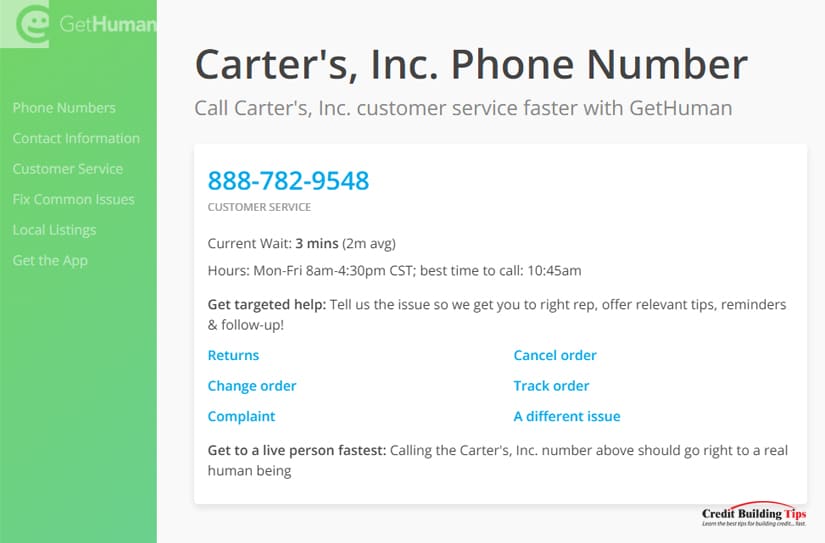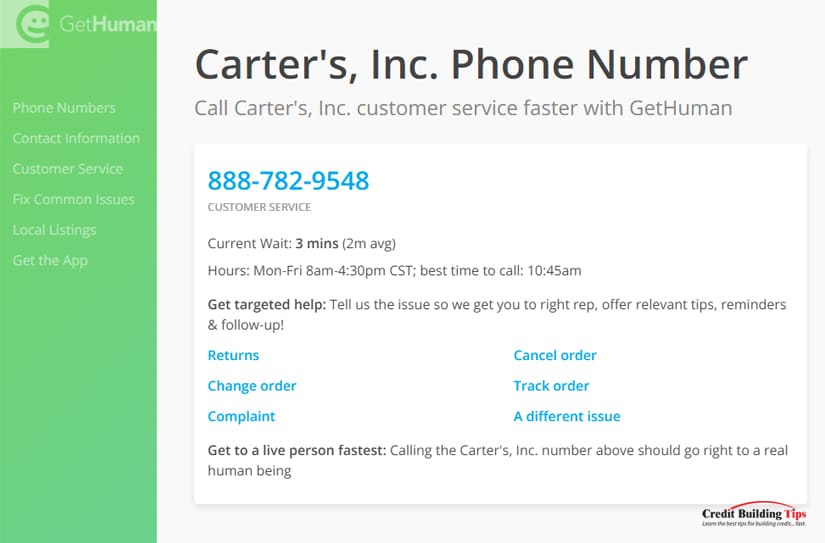 The site also gives you the following:
The current wait time to talk to a human
The option to skip waiting on hold
The opportunity to get targeted help for:

Account access
To get banking help
To cancel your account
To dispute a charge
If you are having trouble sending a payment
If you have a different issue
You can also choose to chat with an expert online now with Get Human's Just answer experts.
Contact Them By Snail Mail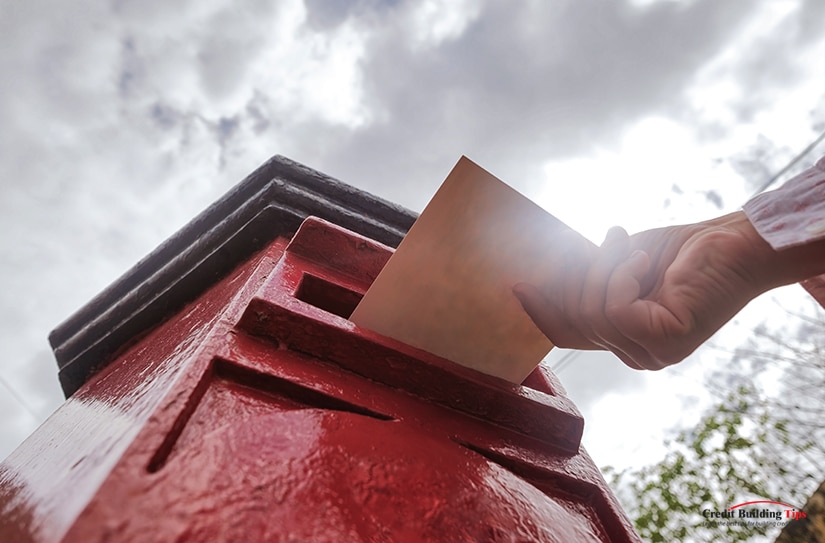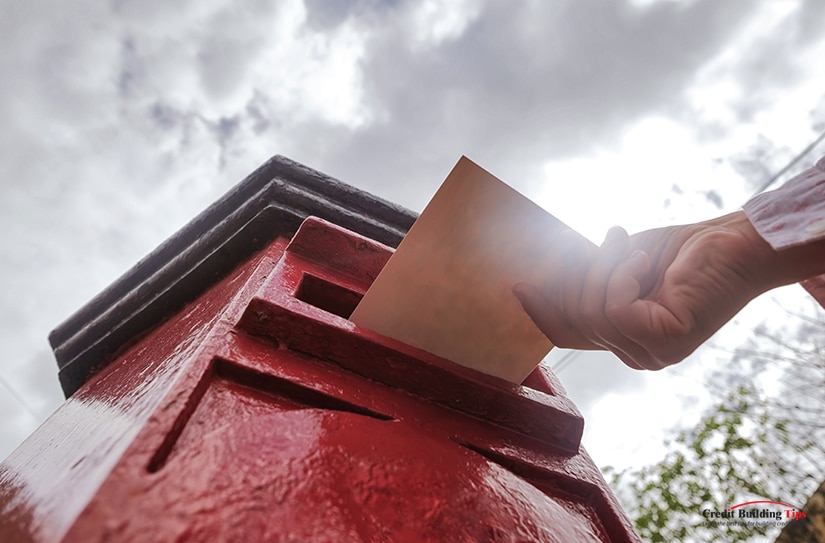 Send general correspondence to:
Comenity Capital Bank

P.O. Box 183003

Columbus, OH 43218-3003
Mail your credit card payment to:
Comenity Capital Bank

P.O. Box 183003

Columbus, OH 43218-3003
Go In-Person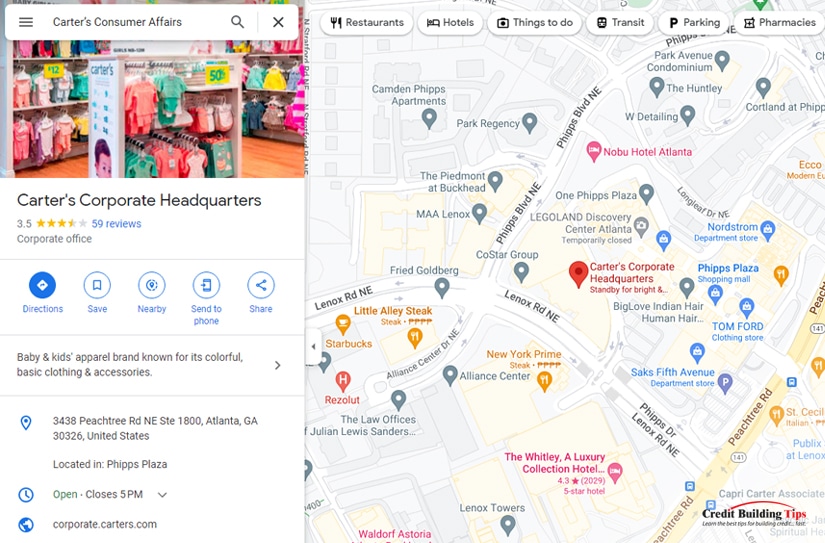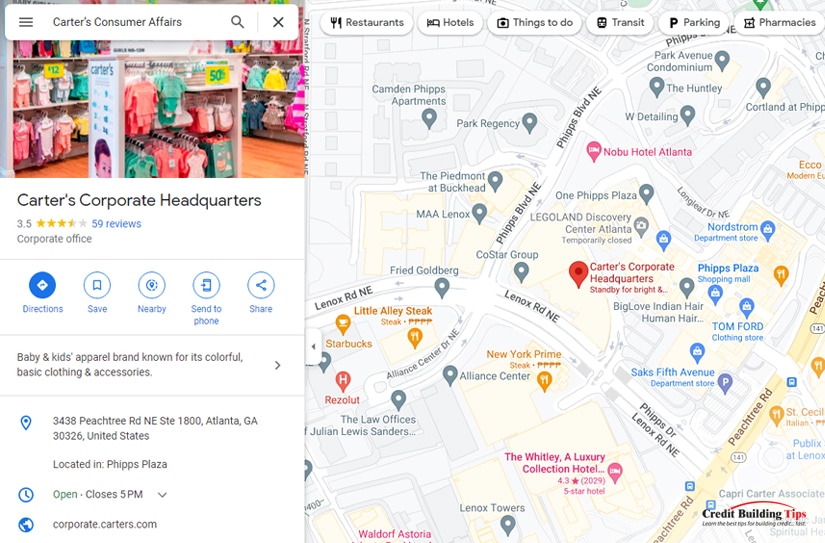 You can visit Carter's Consumer Affairs at:
Carter's Service

Carter's Consumer Affairs

206 State Street

Oshkosh, WI 5490
Or you can visit Carter's headquarters at:
Carter's Headquarters

Carter's Legal Department

3438 Peachtree Road NE

Suite 1800

Atlanta, GA 30326